The HTC One successor with the codename HTC M8 and supposedly to be official with the name of HTC One+ has been getting a lot of love from the rumor mongers and now a alleged protective case for the device suggests the device will come with a fingerprint scanner.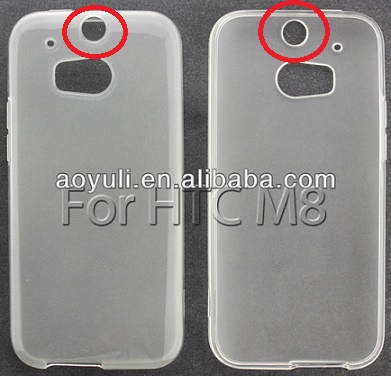 The fingerprint scanner will continue the trend which started with the iPhone 5s then made its way to HTC's phablet One Max and now it should feature in the next HTC flagship. As the case suggests, the fingerprint scanner will be on top of the camera in the rear and users will need to swipe their finger through it similarly to what One Max offers. We are not a fan of the One Max implementation so we hope HTC manages to bring some improvements on that.
The rumored specs of the HTC One+ are a 5-inch 1080p display, a 2.3 GHz Snapdragon 800 or a Snapdragon 805 coupled with 2 gigs of RAM, 16 GB internal storage along with microSD expand-ability, 2900 mAh battery, Android 4.4 on-board and a improved Ultrapixel camera.
We can expect the HTC One+ to be unveiled at MWC in February and hit the stores in March. Till then stay tuned as we'll bring you all the news we get about the next HTC flagship.