While there have been rumours for HTC going the Samsung's way and launching a Mini version of its flagship phone, a UA Prof file has now confirmed the HTC One Mini.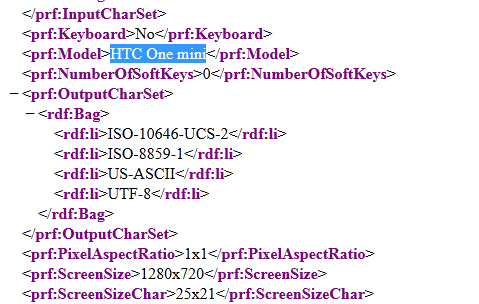 The HTC One Mini has been officially confirmed by HTC in a User Agent Profile (UA Prof) file published by the company. The UA Prof files, which describe the model, screen size and other features of the device before it gets official, are usually done by phone manufacturers. The UA Prof Files of the HTC One Mini confirms a 1280 x 720 pixel resolution.
The HTC One Mini is expected to be powered by a 1.4 GHz dual core Snapdragon 400 processor with at least 2 GB of RAM and 16 GB of internal storage. The device would run the HTC Sense UI above the Android Jelly Bean OS.
Expected specs of the HTC One Mini:
4.3 inch display
1280 x 720 pixel resolution
1.4 GHz dual core Snapdragon 400 processor
2 GB RAM
16 GB internal memory
Google Android v4.2 Jelly Bean
1700 mAh battery