We thought that the mobile wars were only limited to higher specs and lower prices but it seems that smartphone manufacturers have found out a new addition to the war, Custom UI skin.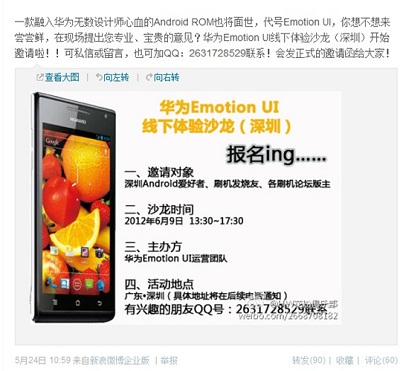 Yes, it seems every mobile manufacturer out there wants to roll out its own custom skin running atop the Android 4.0 Ice Cream Sandwich. And to compete with the likes of Samsung's TouchWiz and HTC's Sense UI, Huawei is planning to bring out its own Custom UI called the Emotion.
Arriving on June 9, Emotion UI will be rolled out only by July on ICS running smartphone from the company, which includes the Ascend D Quad whose release was also pushed behind to July mostly for the custom skin. 
 
The invite picture gives us a glimpse of the stock Android ICS launcher with no modifications, so it may be that Huawei wants to keep the skin under wraps until it is launched officially. 
 
There is no news if the Emotion UI will arrive outside China or not, but given that Huawei wants to penetrate more in the global smartphone market and gain much of the share we could see the company releasing the UI outside China too.