Nokia Lumia 610 will not support Angry Birds, Tango and PES2012
The Nokia Lumia 610 made a lot of heads turn when it went on to arrive with a 256 MB RAM and brought down the minimum RAM requirement for Windows Phone OS drastically. And with the Windows Phone 7.5 Refresh update (Tango), the usability and smoothness of the OS was kept alive coupled with a 800 MHz processor.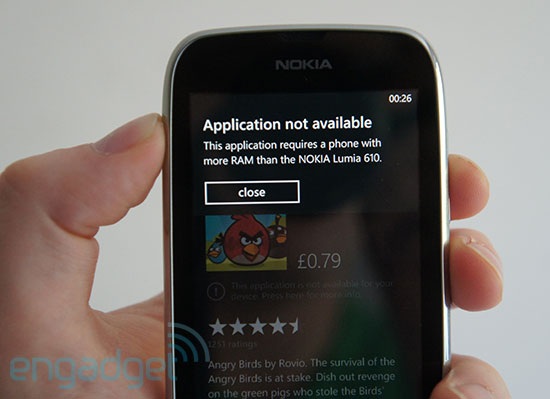 But last week, we saw Nokia pulling off the Skype app and agreeing that it would not be compatible with the Nokia Lumia 610 due to insufficient RAM. Now the small amount of RAM has gone ahead to haunt other popular apps like the Angry Birds, Tango (
Video calling app)
and PES (Pro Evolution Soccer) 2012.

Microsoft's Joe Belfiore has stated that the device would not support only 5% of all the apps in the Marketplace but never told us that it would go on to include a few major ones like the Angry Birds and likes as you can see above.
It is indeed a big blow to all the prospective buyers as they would now either have to compromise on their favourite apps or either on their budget as they would need to buy a Windows Phone smartphone with greater RAM.

So if you were planning to buy the Nokia Lumia 610, then do consider this non-supportability of apps on the device and then decide. And we also hope that Microsoft and Nokia come out clear and list all the apps that would not be available for the Nokia Lumia 610.