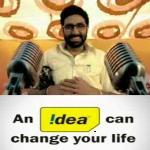 IDEA Cellular, the pan India GSM Mobile Service Operator and market leader in Kerala telecom circle today announced yet another innovative and first-of-its-kind initiative to offer more value to subscribers. With the new Full Talktime Club, the 54 lakh Idea subscribers in Kerala will get 100% value for their recharges.
With the new full Talktime offer, all Idea cellular' GSM prepaid subscribers of Kerala Telecom Circle can join the 'Full Talktime Club' for 30 days, by simply doing a flexi recharge of Rs. 19.
This will enroll the subscriber in the Full Talktime Club, as a result of which user will get full talktime for all the subsequent flexi recharges of Rs. 50 and above (except Mega voucher recharges which give tariff benefits).
Mr. B. Ramakrishna, Chief Operating Officer – Kerala, IDEA Cellular, said, "Idea has always offered the best and most affordable tariff plans suiting the affordability and usage patterns of mobile consumers in Kerala. With the Full Talktime Club, we have now gone a step forward to offer more value to our 54 lakh prepaid subscribers, thus ensuring complete customer delight. We are confident that the new initiative will drive usage on our network and enhance customer satisfaction".