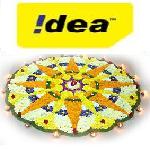 On the auspicious occasion of Diwali IDEA Cellular has unveiled a bouquet of special tariffs for its subscribers in Gujarat.  IDEA has launched "Flat 50 Ps Plan" for its postpaid subscribers with call rates of just 50 paise per minute for all calls and SMS made to anywhere in the country. For prepaid subscribers, IDEA Cellular has launched three special prepaid tariff voucher priced at Rs. 99, which provides calls to any part of India for just 50 paisa per minute for a full year. ( As of of not a Single Operator has launched a plan which can beat Simply Reliance Plan)
Idea has already launched similar plans in Rajasthan, Himachal Pradesh, Bihar & Jharkhand, Mumbai and Andhra Pradesh

IDEA has introduced another new voucher priced at Rs. 35, offering STD calls at just 50 paisa per minute for a period of 6 months. This voucher is mainly useful for the migrants across Gujarat. Additionally, IDEA has also introduced another prepaid recharge voucher priced at just Rs. 12 offering STD call rate at 50 paisa per minute with a validity of one year. These reduced special call rates will be applicable daily from the 2nd minute of the day.