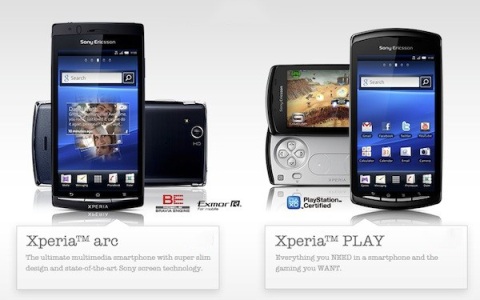 Sony Ericsson has officially launched the 2 new Xperia phones making news around the Globe. Yes, the Xperia Play and Xperia Arc are here. We have the first hand preview of the phones at the launch in New Delhi. Mr Pawan Chadha (Country Head for India, Sony Ericsson), Mr. Sandeep Sibal (Country Manager for India and Vice President of Qualcomm India) were at the event. TV star Chitrangada Singh also gave her presence at the launch.
The Xperia Arc has the Qualcomm Snapdragon processor of 1GHz and has the latest Bravia Engine which delivers excellent performance for the display. The latest version of Android will be onboard, Gingerbread, and also Sony Ericsson's Timescape UI. The camera is an amazing 8.1 MP and provides with amazing video recording capabilities thanks to Sony's award winning Exmor R™ technology.
The Xperia Play is the world's first Playstation certified phone which is capable of providing HD 3D gaming. The phone has a slider which turns the smart phone into a gaming console .The Play is equipped with the 1 GHz Qualcomm Snapdragon processor and also has an Adreno 205 GPU. The advanced Adreno 205 GPU enables the user to have a Playstation experience on their smart phone.
"At Sony Ericsson, our endeavour is to constantly enhance user experience. The launch of the Xperia™ arc and PLAY is an important development for the brand in India, and with Sony technologies incorporated into our portfolio; we aim to become game changers here. As social and digital media continue to change consumer experiences, our portfolio will complement this phenomenon, and take communication entertainment to the next level," said Mr. Pawan Chadha Country Head – India, Sony Ericsson
Mr. Sandeep Sibal presented a few features about the new Qualcomm Snapdragon processor and claimed that is one of the most powerful and the most power efficient mobile processors in the world.He also added that, "We congratulate Sony Ericsson on the launch of Xperia Arc and PLAY. These devices are enabled by Qualcomm's highly integrated Snapdragon MSM8255™ mobile processor, which combines GHz processing power, rich graphics based on Adreno™ 205 GPU, top-notch 8Mpixel and 5Mpixel cameras with HD video, noise cancellation, best-in-class 3G HSPA connectivity and ultra responsive multi-touch experience while providing extended battery life. This compelling combination of superior performance, unique design and exceptional user experience makes the Xperia arc a delight for the discerning smartphone user that requires a best of breed camera and HD camcorder for capturing and sharing experiences, while Xperia PLAY offers a whole new experience for gaming enthusiasts that still need great camera capability."
Sony Ericsson will also be providing special offers with Tata Docomo to boost their sales. Mr. Sunil Tandon, Head of Mobility Services & Device Management, Tata Teleservices Limited had this to say, "Living up to our strategy of 'Doing the New' and bringing innovative services and solutions for our customers, we are pleased to announce the launch of the Sony Ericsson Xperia™ arc and PLAY on the Tata DOCOMO network. At Tata DOCOMO, our endeavour is to bring to life the myriad possibilities opened up by our world-class 3G network. Real-time video and multi-player gaming are among the top applications of 3G speed and these devices provide an opportunity to bring these to life."
The Xperia Arc will be available for Rs. 32, 000 and the Xperia Play for Rs. 35, 000.
Stay tuned for live pictures and more.