Facebook-owned Instagram introduced a new feature back in late January this year that allowed users to add GIFs to their Stories. These GIFs were accessed from GIPHY's library. But, earlier this month, Instagram dropped the integration of GIPHY from its app after a racist GIF was spotted. However, according to a latest report, Instagram has brought back GIFs from GIPHY to Stories.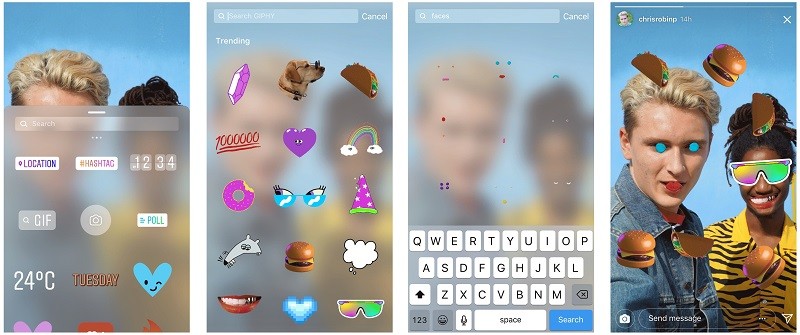 According to a report by TechCrunch, Instagram has brought back GIPHY-powered GIFs to Stories. Hence, you can now add GIFs again to your Stories. To add a GIF to your Instagram Stories, all you have to do is tap on the Sticker icon at the top after taking/adding a photo, and then tap on the the GIF option. From there, you can either add a GIF that's currently trending at a given moment, or, make use of the Search option to find the one you are looking for.
Well, speaking of that racist sticker that sparked the controversy, GIPHY says that it has been removed from their application, and, they have re-moderated their entire library four times to make sure no such sticker is left in their system.
Furthermore, GIPHY says that each new sticker will now only be added into their system after it has been moderated and approved.
Commenting on this incident, an Instagram spokesperson said, "We've been in close contact with GIPHY throughout this process and we're confident that they have put measures in place to ensure that Instagram users have a good experience".
On the other hand, here's what GIPHY had to say, "Before we get into the details, we wanted to take a moment and sincerely apologize for the deeply offensive sticker discovered by a user on March 8, 2018. To anyone who was affected: we're sorry. We take full responsibility for this recent event and under no circumstances does GIPHY condone or support this kind of content. The content was immediately removed and after investigation a bug was found in our content moderation filters affecting stickers. This bug was immediately fixed and all stickers were re-moderated. We have also finished a full investigation into our content moderation systems and processes and have made specific changes to our process to ensure something like this does not happen again."
Well, even though Instagram has brought back GIFs to Stories, it's seemingly unavailable to some users. At least I can't see it  in my Instagram app yet. Do you?