Facebook-owned WhatsApp is constantly testing new features across different mobile platforms. Earlier this week, we told you that WhatsApp was testing a feature on its Android app that would let you 'Star' your favorite GIFs for quick access. Now, the company is testing a feature that lets you notify your contacts about change of your number.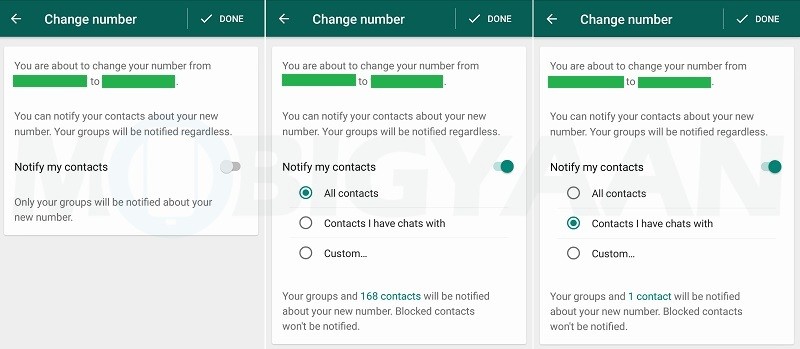 WhatsApp, with beta version 2.18.97 for Android, has introduced some useful changes to its 'Change Number' feature. You must be already aware that WhatsApp lets you change your number that's associated with your WhatsApp account.
With the Change Number feature, you can migrate all your account information, settings, groups, as well as chats from one number to another. And, when you change your WhatsApp number, the members of the group you are a part of know that you have changed your number. But, your other WhatsApp contacts aren't made aware of this change by WhatsApp, unless you yourself do it explicitly.
Well, with the latest beta update for Android, users will be able to notify about this change of number to their WhatsApp contacts. To notify your WhatsApp contacts about the change of your WhatsApp number, all you have to do is toggle on the button that's provided right next to the 'Notify my contacts' option under the 'Change Number' settings.
Once the button is toggled on, you get three options – All contacts, Contacts I have chats with, and Custom. All three of these options are self-explanatory. Selecting the first option means that all your WhatsApp contacts will be notified about the change of number. Selecting the second option means only those WhatsApp contacts will be notified that you have chats with. And, the third option lets you choose the people from your contacts who you want to be notified about the change of your WhatsApp number.
Having said that, irrespective of whether or not you choose to notify your contacts about the change of your number, the groups you are a part of will be notified when you change your number.
That being said, according to WABetaInfo, this option is currently only available to those who are using beta version 2.18.97 of WhatsApp for Android. Those who are on iOS and Windows Phone will have to wait.
With that being said, just because WhatsApp is beta testing this feature doesn't mean it will be rolled out to everyone on stable version. But, given how useful this feature could be, we don't see any reason for WhatsApp to not roll it out.