If you are using Facebook's app since long time, from before 2014, you must be aware that the app came built-in with Messenger. In 2014, Facebook decided to strip off the messaging functionality from the main Facebook app, and hence, users were forced to download Facebook Messenger if they wanted to send and receive Facebook messages on their smartphone. Well now, Facebook owned Instagram is also going that same path.
Instagram has started testing Direct, which is a standalone messaging app for Instagram users. Currently, Instagram users can send and receive messages through Direct. It can be accessed by swiping from right to left on your Instagram feed, or, by simply tapping on the paper-plane icon located at the top-right corner of your feed. It's also the place where your Instagram conversations reside.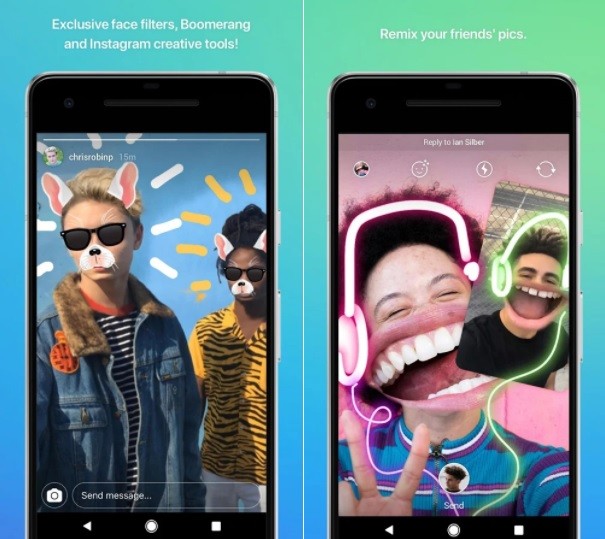 However, with Direct, Instagram plans to move those messaging features away from the core app. Once you download and install Direct on your smartphone, your messages inbox from the main Instagram app will be replaced, and, will be accessible from the Direct app.
When you open the Direct app, you are greeted with camera so that you can quickly snap a photo or record a video and send it to your friends. On the left side of the camera is your profile, settings and options to switch between multiple accounts. And, to the right is your inbox where you will find all your Instagram messages.
That said, the Direct app also comes along with four exclusive filters which aren't available on the main Instagram app. Direct is currently being tested with Android and iOS users in six countries – Chile, Israel, Italy, Portugal, Turkey, and Uruguay – and, there's no information if and when it will be rolled out in other countries.
Speaking about Direct, Hemal Shah, Product Manager at Instagram, said, "We want Instagram to be a place for all of your moments, and private sharing with close friends is an important part of that. Direct has grown within Instagram over the past four years, but we can make it even better if it stands on its own. We can push the boundaries to create the fastest and most creative space for private sharing when Direct is a camera-first, standalone app".
Apparently, Instagram thinks that they can make messaging a better experience for Instagram users by offering them a standalone app that does just that.
There was lot of uproar when Facebook decided to strip off the Messenger from the main Facebook app and make people download additional app for messaging. But, even after those complaints and dislikes, Facebook Messenger today has more than 1 Billion downloads on the Play Store.
It now remains to be seen whether or not Instagram can make Direct a viable messaging option for its users. What do you think?
Download Link: Direct from Instagram for Android