Facebook-owned Instagram has rolled out quite a lot of new features recently. And, at any given time, it's always testing new features before rolling them out to all its users. Well now, Instagram is doing something that a majority of its users were waiting for: it is now allowing some users to request for a verified account.
Instagram has started allowing its users to request for a verified account from right within the app. For those unaware, a verified account is the one that appears with a blue-colored tick mark right next to its name. It indicates that the account is authentic and does belong to the person or brand claiming to own that account.
Until now, it was quite difficult for Instagram users to get their account verified and rock a blue-colored tick mark right next to their name. There even are conspiracies of Instagram's employees selling verified accounts to users for thousands of dollars. However, with Instagram giving the option to request for verification inside the app, this kind of malpractices will hopefully reduce, if not come to an end.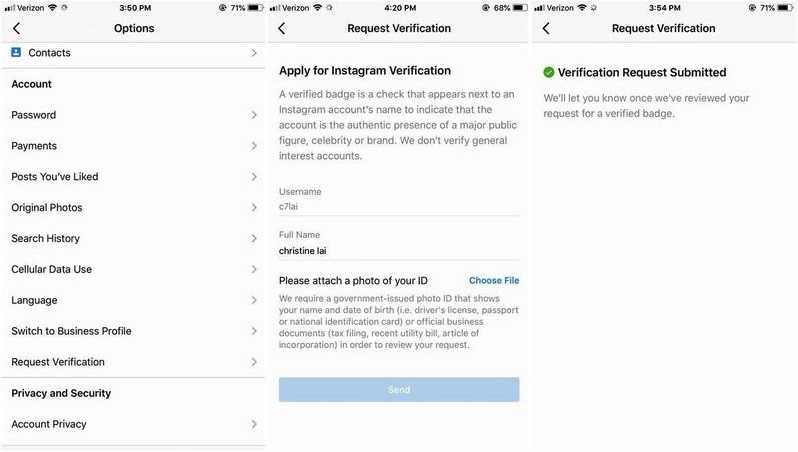 To request for a verification, users have to head over to the 'Request Verification' section and provide their username, full name as well as a government-issued photo ID that has their full name as well as date of birth on it. Once they do that, Instagram will start reviewing the verification request. However, there are some caveats.
Firstly, Instagram is still limiting the blue ticks to accounts that indicate the "authentic presence of a major public figure, celebrity or brand". This means normal people like you and me aren't getting that most sought after blue tick on our accounts any time soon. Secondly, this option to request for verification is only available to users in Australia, that too for the ones who own an iPhone. However, it's said to be rolled out to Android users as well in the coming weeks.
"Our community asked us for more transparency around this issue, and with today's announcement we're sharing clear details about verification requirements and eligibility criteria," said Nicci Meek, Strategic Partner Manager APAC, Instagram.
"This new feature will allow our community the opportunity to apply for verification themselves, and understand the process behind getting verified on Instagram. We believe opening up verification to the public will also work towards safeguarding our community." Meek further added.
It now remains to be seen how soon does Instagram roll-out this option to request verification in other countries.