According to sources, Lenovo will be launching the first ever Intel Medfield processor equipped smartphone, the K800 in about two months of time in China.
Till then we have some benchmark results of the smartphone which aren't that mind-blowing, but yes the numbers are pretty close to the Samsung Galaxy Note. The K800 will have a 1.6GHz Atom Z2460 processor and will be running on Android 4.0 Ice Cream Sandwich, however for the benchmark testing, the prototype was running on Android 2.3.7. The graphics performance wasn't at its highest, but it managed a decent overall score.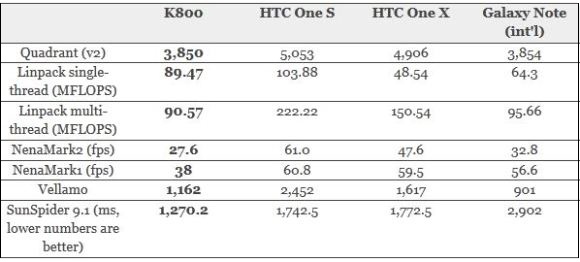 While K800 will be the first Intel processor powered smartphone, it is commendable that the smartphone came pretty close to the biggies including the Samsung Galaxy Note, HTC One X and HTC One S. The K800 did beat the One X and One S in the SunSpider 0.91 Javascript test, where it only took 1,270ms to complete.
Let's hope after further testing and improvements the smartphone will be even better.