Indian smartphone manufacturer Intex has expanded its product portfolio by launching three new smartphones today in the country. Intex has launched Aqua 4.0 4G, Aqua Crystal and Aqua Supreme+ in India today, all of which come with support for 4G VoLTE.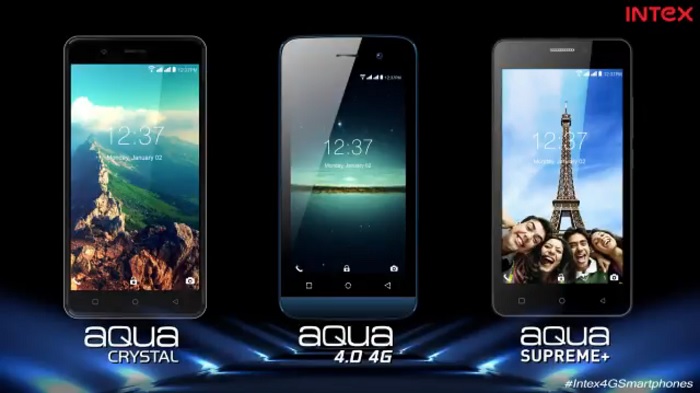 The similarities between all these smartphones is that not only are they 4G VoLTE ready, but, they also run Android 6.0 Marshmallow out of the box, support Dual-SIM and offer storage expansion up to 32 GB via microSD card. The Aqua 4.0 4G is the cheapest of all these smartphones with a price tag of ₹4199. Speaking of Aqua Crystal and Aqua Supreme+, the former is priced at ₹6990 whereas the latter would cost you ₹9490.
The Aqua Supreme+ being the costliest among the three runs Indus OS based on Android 6.0. Marshmallow. It comes with Indus Swipe, Indus Reader and Indus Recharge 2.0. Indus Swipe can be used for translation as well as transliteration whereas the Indus Reader provides text-to-speech functionality.
[table id=84 responsive=flip /]
After taking a look at these specs, if you are still interested in buying any of these phones, then these can be purchased from retail stores across the country. Also, if you are looking to buy a smartphone under ₹10,000 , do check out our list of best smartphones under ₹10,000 which you can buy. They have way better specifications than the Intex smartphones we mentioned above.