Yesterday we saw Apple making some big announcements at the WWDC event in San Francisco. For mobile device lover, Apple showcased the iOS 6, proclaiming it as the world's most advanced mobile operating system.

We already know the new additions and upgrades to the OS, so now let's see what all is new with Apple's very own voice assistant Siri and also the new and improved phone calling features.

Siri:
Siri has been updated and now offers a whole lot more advance features and better information. Also, the moment you have been waiting for, yes Siri is now available on the iPad. Siri can now fetch you sports info and you can ask for almost anything from schedules, scores, player stats, team records, etc from the world of baseball, basketball, football, soccer, and hockey.
Want a recommendation on a movie? Ask Siri to show you a movie trailer or a Rotten Tomatoes review. It also gives you information about the movie like when the film premiered, who directed it, what was the cast, and so on.
If you are dining out, Siri can be your official food recommendation guide. Just ask to find restaurants by cuisine, price, location, outdoor seating, or a combination of choices. Siri will show you a restaurant's photos, Yelp stars, price range, and reviews. When you find a place you like, ask Siri to make a reservation through the OpenTable app. SWEET!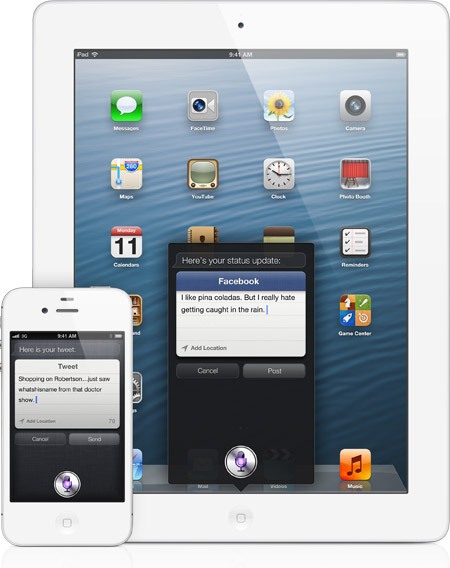 One of the biggest new upgrade to Siri is the ability to update your Facebook or Twitter status. Now no more tapping and all talking.
Siri now also launches your apps, just tell her to launch Angry Birds and Siri will open up the bird slinging game for you.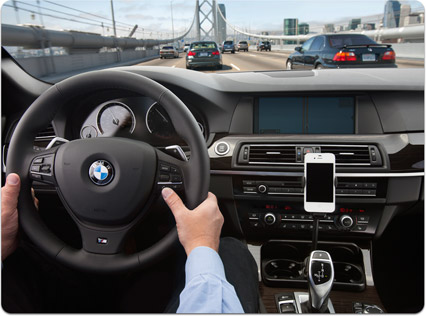 Apple is working with car manufacturers to integrate Siri into select voice control systems. Through the voice command button on your steering wheel, you'll be able to ask Siri questions without taking your eyes off the road. To minimize distractions even more, your iOS device's screen won't light up. With the Eyes Free feature, ask Siri to call people, select and play music, hear and compose text messages, use Maps and get directions, read your notifications, find calendar information, add reminders, and more.
With all of the features above Siri now supports new languages including Mandarin, Cantonese, Spanish, Italian and Korean.
Phone:
Apple has included some new calling features in the phone app. The new features include Reply, Remind and Do not disturb.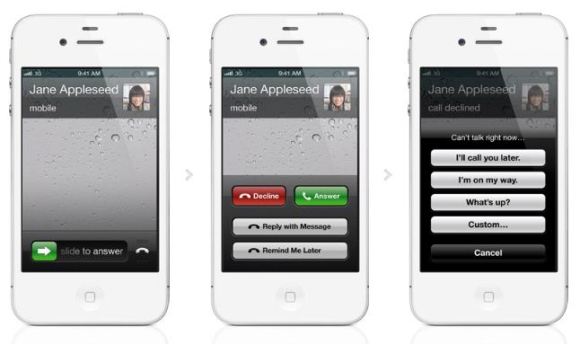 Now when you get a phone call, you can now quickly reply via iMessage or a plain SMS. Also there are preset messages that you can use to reply to the person calling.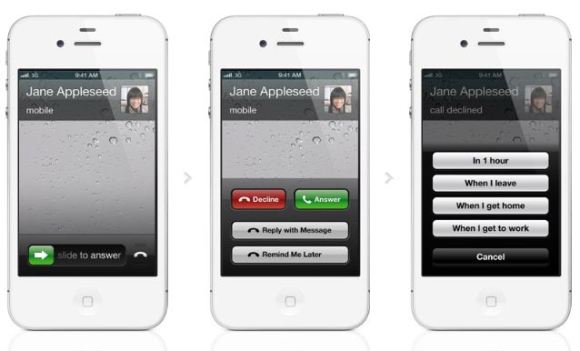 In case you get a call and you can't pick up the call right away, you can simply set a time based or location based reminder. You will get an alert reminding you about the call at a later time.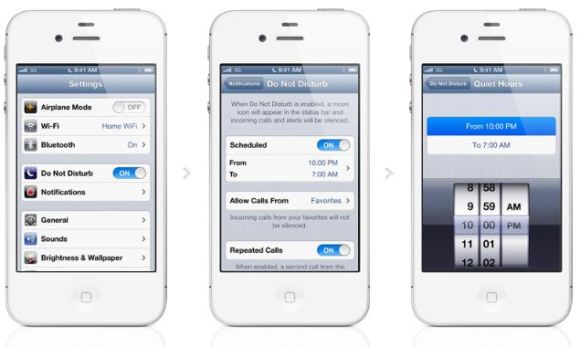 If you are really busy or just don't want any phone calls or notifications, then there is the Don not disturb feature. This feature suppresses all incoming calls and notifications. Enable it manually or schedule a recurring time, like after 10:00 p.m. on weeknights. You can also filter calls and notifications from your favourites or specific contact groups.
The new features sound promising and make the OS much more convenient to use. We have more features coming up so stay tuned.