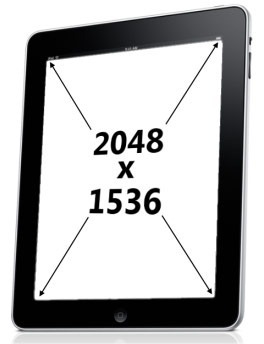 So after the launch of iPhone 4S, the next thing on Apple's cards is the iPad 3. And as we all know that Apple tries to improve its product with every generation, this time Apple wants to improve the display of the iPad which is becoming a cause of worry for the display manufacturers like LG and Samsung. According to rumours, the reason behind this is that Apple wants a Retina Display-like resolution in its iPad 3.
According to Apple, a Retina Display would mean having "pixel density is so high your eye is unable to distinguish individual pixels." On the iPhone 4S, that translates to a 960×640, 3.5″ display which sports 326 pixels per inch (PPI), which is really dense. And according to sources, the closest that iPad display can get is 2048×1536 resolution display which is a PPI of 264, twice the 132 PPI on the iPad 2. The display is also expected to have a brightness of 550nits. The other concern for Apple is that, whether manufacturers will be able to shell out the displays at the quantity that Apple requires, because the demand is much higher.
As of now, we have to wait and see how Apple and the manufacturers deal and develop the display screens.