Yahoo Maps is powered by Nokia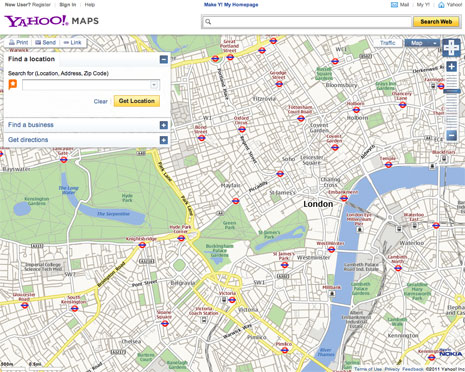 YES! You read it right. Yahoo Maps is now actually powered by Nokia. Last year Nokia and Yahoo joined hands to leverage each other in email, instant messaging, maps and navigation services. Starting with users living in the US and in Canada, Yahoo will now make the switch to using the Nokia Maps platform, with a gradual rollout across the globe.
Yahoo Maps will now benefit from the bunch of new features provided by Nokia Maps, including the latest maps with new routing options that enable users to avoid tolls and freeway, up-to-date location data/addresses, updated road networks and points of interest. Also Nokia Maps has also undergone a customization by Yahoo so that users get a familiar look and don't have much trouble using the maps. The interface now delivers a new, simplified layout and visual design that has a maximized viewable area and enhanced business listings support.