Reliance Jio has introduced a new add-on pack known as the Jio Digital Pack that offers 2 GB more data per day on your existing plan. However, this pack is complimentary with no additional charge, available for selected users and is activated automatically.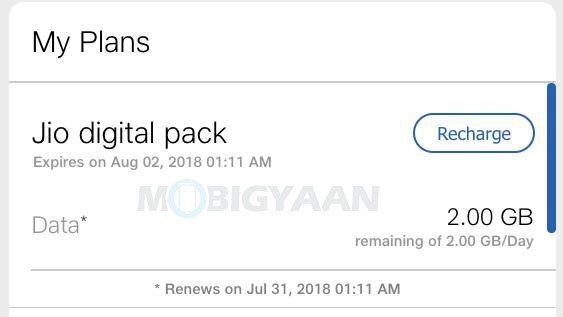 Our Jio number received the offer of 2 GB data per day valid for 2nd August 2018. The validity may vary depending on user-to-user with their existing plan. You can check your account on MyJio app or on the desktop if you have received it.
Note: For some users, the extra 2 GB benefit of this Digital Pack has either received earlier with a validity 30th or 31st July or not yet received.
This pack is not available for Jio postpaid users, this is for prepaid users only. As mentioned above, the Jio Digital Pack is automatically activated on select Jio numbers adding 2 GB more data per day for free. You don't need to pay any price for it. Other benefits like voice calling and SMS will remain as the per the existing plan.
For example, if your plan is Rs 149 per month that comes with 1.5 GB per day and you get the 'Jio Digital Pack' offer on your account, then your total data is will be 3.5 GB per day until the existing plan is valid while the unlimited calling and SMS remains the same.
How to check if you've received Jio Digital Pack
To check if you have got the Jio Digital Pack, launch MyJio app on your smartphone and enter My Plans tab by tapping the three lines in the top-left corner. If you can see Jio Digital Pack with 2 GB, then you have got it. You can also check it on the desktop by logging in to the Jio.com website.