The Samsung Galaxy Note9 is already making rounds on the internet with leaks and rumors. The South Korean tech giant is close to unveil the next generation Galaxy Note series on 9th August, but, a recently leaked pre-order poster reveals the price of the Galaxy Note9 before the launch.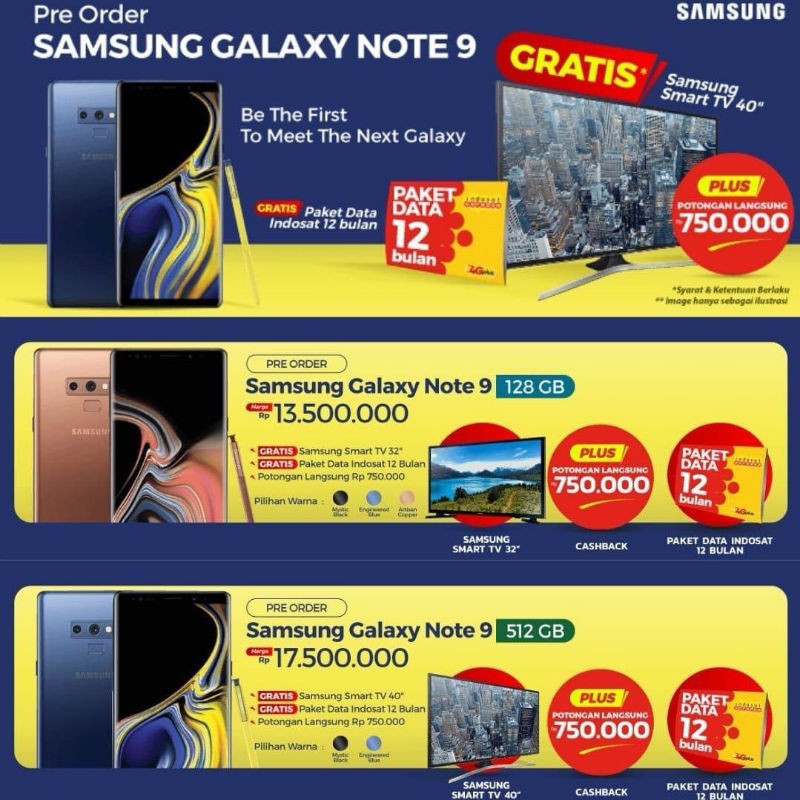 The Galaxy Note 9 price has been rumored a few times before in reports, but a new Indonesian leak confirms the price along with the variants and colors for the Indonesian market. The poster also leaks the offers including the free Samsung 32-inch and 40-inch Smart TVs, free mobile data, and cashbacks.
It seems that Samsung will release the Galaxy Note9 in two variants. According to the leaked pre-order poster, the Samsung Galaxy Note9 will come in two storage variants, one with 128 GB of internal storage which will be the base model and another with a whopping 512 GB of internal storage.
As per the images above, the price for the Galaxy Note9 will start from 13,500,000 IDR which is equivalent to the US $937 or Rs 64,381 in India for its 128 GB variant. And it goes up to 17,500,000 IDR close to the US $1,214 or Rs 83,447 for 512 GB variant.
The leaked posters also list the color options, the Galaxy Note9 will come in Mystic Black, Engineered Blue and Artisan Copper. It is expected that the Galaxy Note9 will be available in a total of 5 different colors during launch.
Samsung Galaxy Note9 Price
Price: 13,500,000 IDR (equivalent to US $937 or Rs 64,381) for its 128 GB storage variant, 17,500,000 IDR (equivalent to US $1,214 or Rs 83,447) for 512 GB storage variant.
It is unclear whether Samsung will announce the Galaxy Note9 for Indian markets on the 9th August, however, it is likely to be sure that it will be Flipkart-exclusive.
What do you think about its price? What price do you expect? Do you think Galaxy Note9 will be priced the same as the last year's Galaxy Note8 or will go higher? Share your answers under the comments.