Reliance Jio has partnered with Xiaomi – one of the most popular smartphone brands in India, to offer a special monthly plan for its newly launched device. The Redmi 5A also known as 'Desh ka smartphone' is an affordable device launched in India for ₹5,999. Jio has introduced this special monthly plan for Redmi 5A users at ₹199.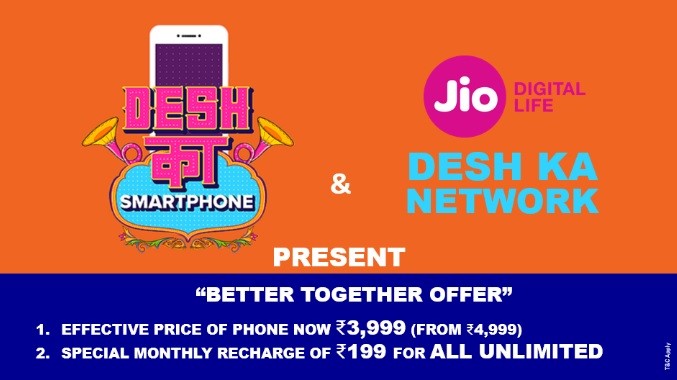 About the monthly plan, the Jio has added a new plan for Redmi 5A users that will cost ₹199 and offers unlimited calling, unlimited SMS, 28 GB 4G data (1 GB per day), and a subscription to Jio apps all valid for 28 days. This is the lowest priced monthly plan available in the market and currently, no other telecom operator offers the above mention benefits at this price.
Xiaomi says the price of the phone will be available for ₹4,999 for the first 5 million units. The product is already ₹1,000 discounted, however, combined with Reliance Jio, the phone will cost ₹3,999 effectively. Customers can get the Xiaomi Redmi 5A for ₹3,999 with this ₹199 Jio monthly plan. With this offer, customers can enjoy the smartphone with all 4G services at the lowest possible price.
To get Redmi 5A for ₹3,999, users will need to purchase the device for ₹4,999 and require to continue the ₹199 plan for 12 months to receive the ₹1,000 cashback. The cashback will be credited to the user's account in the form of 10 vouchers of ₹100 denomination at the end of 12 months period.
The Redmi 5A is a budget device with a 5-inch screen, featuring a quad-core Snapdragon 425, 2 GB RAM, 16 GB storage, and a battery worth 3,000 mAh capacity. The other variant of this device will offer a 32 GB storage coupled with 3 GB RAM retailed at ₹6,999.
There is no information about the plan extending to other phones, but as far as the Redmi 5A users are concerned, Jio has its ₹199 plan and no other competitor is offering such benefits as of now.