We had been hearing about the merger of Vodafone India and Idea Cellular since last year, and, it's only yesterday that both the telcos finally announced the completion of their merger. The merged entity is called Vodafone Idea Limited, and, the merger makes Vodafone Idea Limited India's largest telecom operator with a subscriber base of over 408 Million. With this merger, we are now left with only three major telecom operators in India – Vodafone Idea Limited, Bharti Airtel and Reliance Jio. We have seen all these telecom operators exchanging some harsh words with each other in the past, but now, what has happened is quite funny.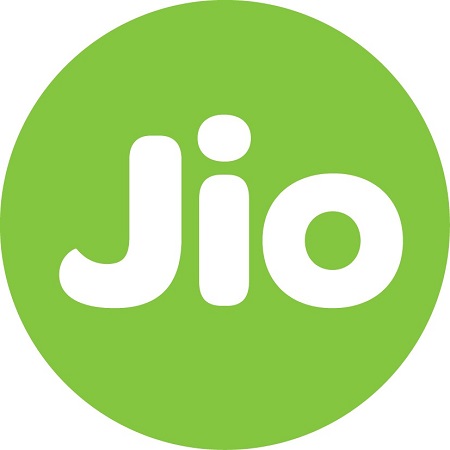 Mukesh Ambani-led Reliance Jio poked fun at Vodafone and Idea soon after the telcos announced the completion of their merger. All this action took place on Twitter after Vodafone and Idea tweeted about their merger.
The pun games began after Idea tweeted "Hey, @VodafoneIN you know they're all talking about us". Vodafone India quoted this tweet and tweeted "Yeah @Idea. It's time we made it official.?? https://www.vodafoneidea.com". And after that, Reliance Jio quoted Vodafone India's tweet and tweeted "Bringing people together since 2016. ❤️@VodafoneIN @Idea #WithLoveFromJio". This tweet from Reliance Jio has given rise to lots of memes on Twitter and Facebook.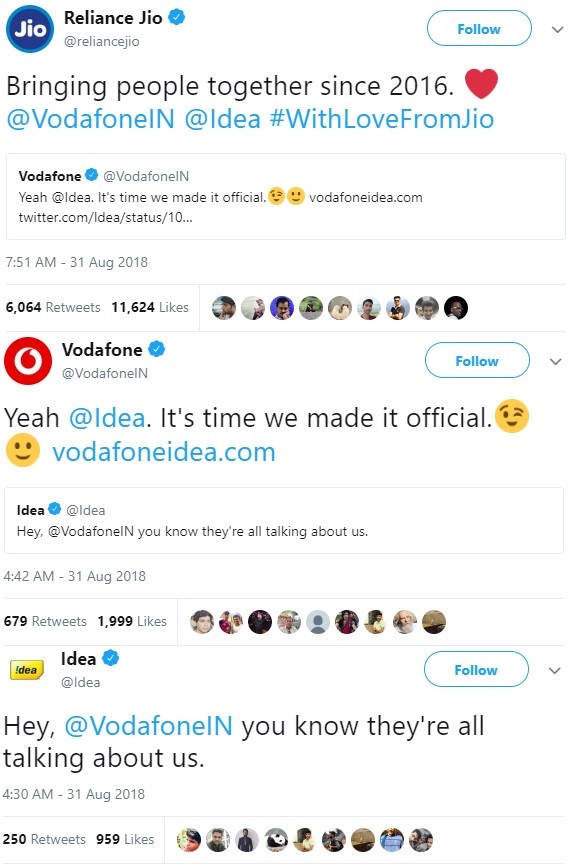 At the time of writing this, Idea's tweet got 250 retweets and 959 likes. Vodafone India's tweet got 679 retweets and 1999 likes. And, Jio's tweet got 6064 retweets and 11,624 likes. That said, Reliance Jio wasn't the only one who welcomed Vodafone Idea Limited with a troll on social media. Twitter users too came with up some memes, one of which we are sharing down below.
https://twitter.com/IronyOfIndia_/status/1035580381917896704
Reliance Jio made its foray into Indian telecom sector back in 2016, and since then, it has taken the telecom industry by storm – thanks to free voice calls and cheap data. We have witnessed an intense war in Indian telecom sector since Jio's entry, and now that Vodafone and Idea have merged together, this battle might just become more intense.
It remains to be seen what kind of offers do these telecom operators come up with in the coming months.