Reliance Jio has launched its JioMotive (2023) device for cars aimed at transforming conventional cars into smart vehicles. The JioMotive (2023) is a smart plug-and-play 4G GPS tracking device for cars priced at ₹4,999.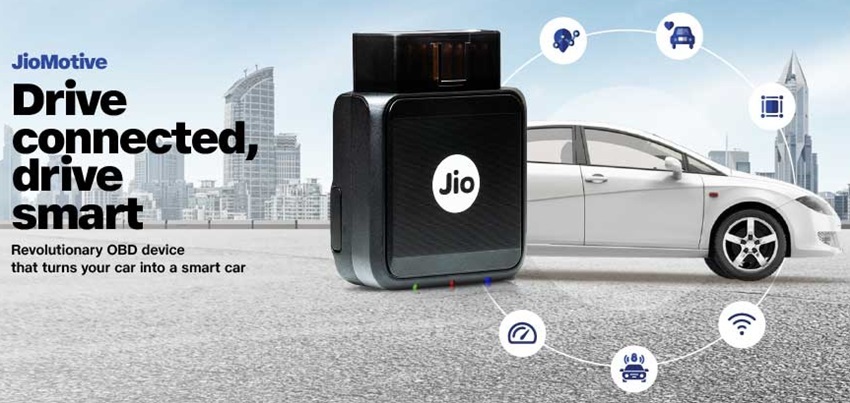 The JioMotive, weighing about 110g, is designed for easy installation and seamlessly connects to your car's OBD port, operating on the Jio Network, and comes with features like Realtime Vehicle Tracking, Geofencing with instant notifications, Vehicle Health diagnostics, Time fencing, Driving Behavior Analysis, and comprehensive security.
Users can create geofences for specific areas, such as your home or workplace. Receive instant notifications when a car enters or exits these predefined zones, enhancing security and control.
The JioMotive also monitors essential factors like battery voltage and air intake temperature and alerts users to diagnostic trouble codes. It even analyzes driving behavior to encourage safer practices. In addition, users can review their trip history to gain insights about driving habits.
Another unique feature called Time Fencing allows users to set specific time frames using the JioThings app. If the car moves during these designated times, users will receive immediate notifications. This feature is particularly handy for vacations or personal time when they want the car to remain stationary.
JioMotive provides anti-theft, anti-tow, and accident alerts through its 3D gyroscope and accelerometer. Moreover, the device offers in-car Wi-Fi connectivity for up to eight devices to ensure passengers stay connected and entertained during journeys.
The JioMotive (2023) 4G GPS Tracker is priced at ₹4,999 for a limited time, the original MRP of the device is ₹11,999. The JioMotive (2023) is available on Reliance Digital stores across India as well as Amazon.in. Jio is offering a complimentary one-year subscription for JioMotive for a limited time. After that, users can renew for an annual fee of ₹599.
JioMotive (2023) Price In India, Availability, Offers
Price: ₹4,999 (limited time) – MRP ₹11,999
Availability: Available on Reliance Digital stores across India, Amazon.in
Offers: Free one-year subscription for JioMotive for a limited time, ₹599 per anum after the first year