Keeping in flow with April Fool's day, we thought it might be fun to share some apps that are going to make you laugh all day long. We have a few Android apps for you to tickle your funny bone.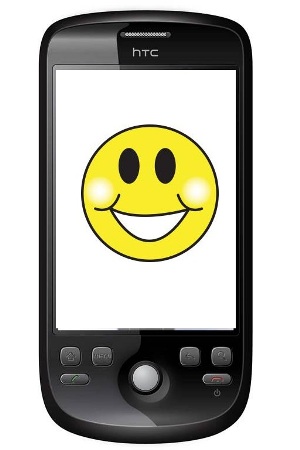 So check out these cool jokes apps that you can enjoy and have a good laugh with.

20000 Awesome Jokes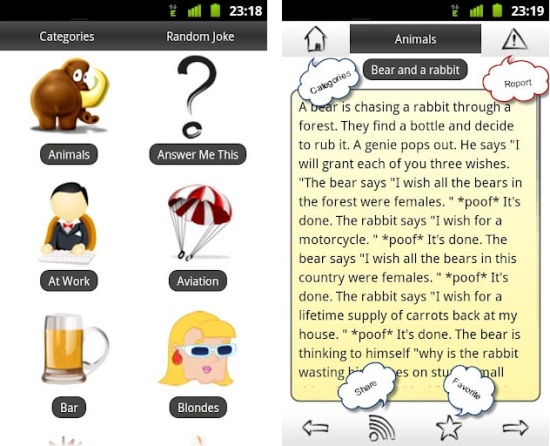 This is a neat app that has a whole lot of jokes for you to enjoy. The best part is that it has various categories that you can scroll through.
Some of the categories include:
Animals

Blondes

Children

Elderly

Dirty

Doctors

Dumb

Food

Gender

Marriage

Lawyers

Military

School

Women

Yo Mama
The app also has a widget feature that you can put on your homescreen. Also you can save a particular joke in your favourites list and if you wish, you can directly share the joke with your friends on Facebook, Twitter or email.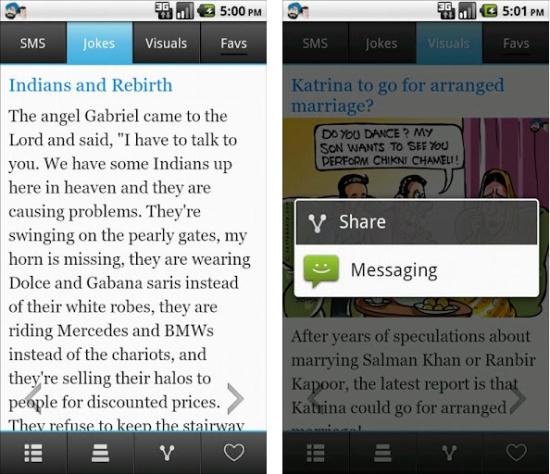 An app by SantaBanta.com, it is updated daily with new jokes that you can enjoy and share with your friends. The app provides you with Jokes, Cartoons, SMS, Graffiti, Oneliners, Quotes, etc. and in various categories including SantaBanta, Lawyers, Doctor, Bar & Drunkard, Blonde, Marital Jokes, Cartoons, Animations, Funny pictures, Dirty, Friendship, Flirt, Marital Woes, Love, Missing You, Shayari, Wise words, Bollywood, Rajnikanth, Pathan and Hindi SMS.
You can save the image using long press and it will be saved to your download folder.

You can share SMS/Joke/Visual using messaging, facebook or mail from the application itself.

You can browse various categories and subcategories of SMS, Jokes, Visuals, Trivia, Quotes and Hindi content.

You can scroll SMS/Jokes/Visuals using finger gestures and by pressing dedicated arrow keys.
To enable Restricted Categories, go to options and check "Enable Restricted Jokes" and then visit categories page by clicking left most icon at the bottom of application. It will now show Restricted categories as well.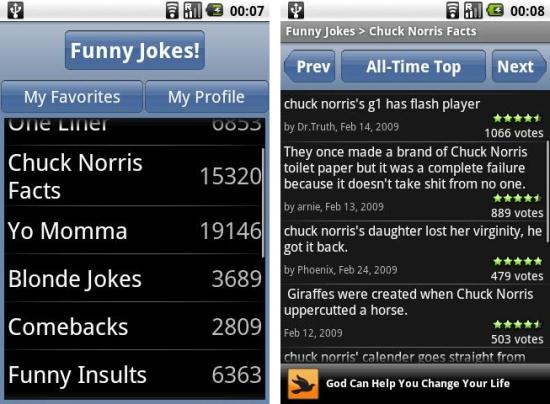 One of the top rated and downloaded apps on the Google Play Store, this app has a huge collection of jokes to tickle you all day. Like other apps, this too has categories like Chuck Norris Facts, Yo Momma jokes, dirty jokes, blonde jokes, riddles, etc. You can send the jokes via SMS, text message, Twitter or Facebook and also add your own funny comment on jokes.
Funny Jokes for Kids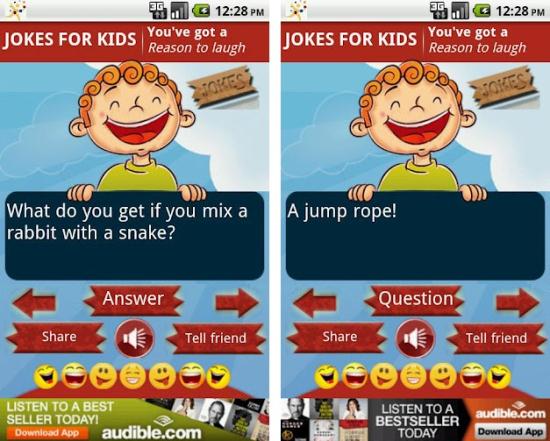 Here's something from the kids section. This app has jokes for the young ones and mind you, the app advises you not to download the app if you don't have a silly sense of humour. The app has a nice collection of jokes specifically for young people, so yes it has only clean and witty jokes.
Yo Mama Jokes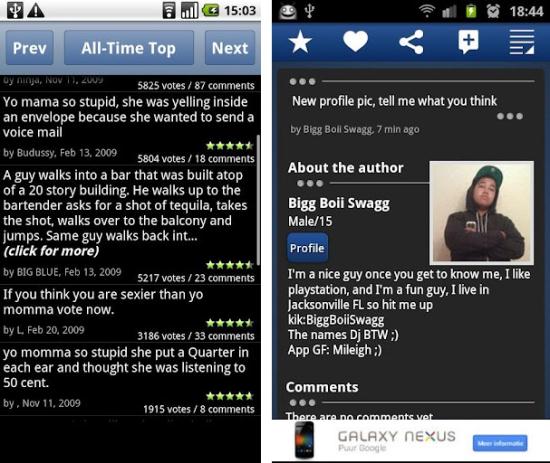 Love those 'Yo Mama' jokes? Well, here's a collection of the sickest wackiest and craziest Yo Mama jokes for you. Apart from the thousand of jokes, you can make your own profile in this app, share jokes via email, SMS, text message, Twitter or Facebook and also submit your very own joke. Take that Wilmer Valderrama!