Earlier, we compared the camera samples of these two smartphones, Honor 5C and LeEco Le 2. Now, we'll compare how good they are at capturing videos. Honor 5C is priced at ₹10,999 while LeEco Le 2 is available for ₹11,999. Let's check out the video samples of LeEco Le 2 and Honor 5C camera. Have a look at them below.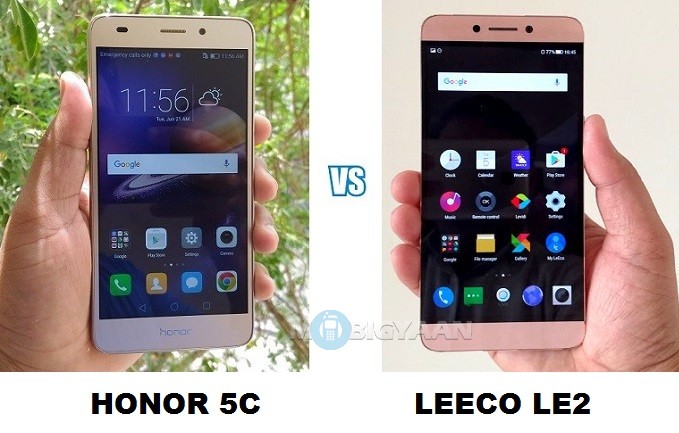 LeEco Le 2 vs. Honor 5C: Camera Specifications
[table id=44 responsive=flip /]
LeEco Le 2 vs. Honor 5C: Video Samples
LeEco Le 2 has a 16 MP f/2.0 rear-facing shooter whereas on the Honor 5C, there is a 13 MP rear-facing camera. Both of them support autofocus. We captured video samples from both the camera while they lack Optical Image Stabilization (OIS) and that's is satisfactory as they have a low price.
As you can see the quality of the video on the Honor 5C turns out to be the better than LeEco Le 2. The camera captures details and on seeing the sample, the object detailing appears to be much better and brighter than the sample we got from LeEco Le 2's camera.
These video samples are captured on a 1080p resolution i.e. 1920 x 1080 pixels. Honor 5C supports up to 1080p video recording. LeEco supports up to 4K video recording. Digging more into it, both of them captures slow motion videos at 120 frames per second. LeEco Le 2 captures at 720p@120 FPS while Honor 5C captures 480p@120 FPS. Honor 5C provides you those compelling features which lack on the LeEco Le 2. Honor 5C camera gives you the options to tweak the camera with its camera features. For camera enthusiast, Honor 5C has a Pro Video setting which lets them adjust the Exposure, Manual Focus, Scene Modes, and a few others.
Honor 5C can capture videos at very good quality and outshines the Le 2 camera in terms of overall quality. If you are about to choose one from either of the two smartphones for the best camera, Honor 5C is the right pick.