LG Optimus Note will be a QWERTY Keyboard equipped Dual-Core smartphone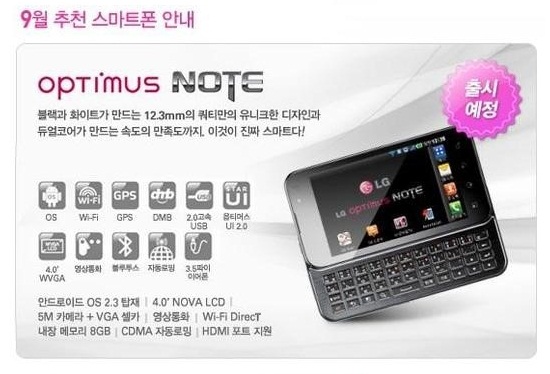 LG's Optimus family just got a new member boasting a full physical QWERTY-keyboard and a dual-core processor. The Optimus Note looks like the Optimus Black with a slide-out keyboard and is said to be running on an NVIDIA Tegra 2 processor. Hey didnt Sasmung just launch a device called the (Galaxy) Note?
:D
So what's so fancy about the Optimus Note ? Well, I don't see anything new here but offcourse the physical keyboard. There aren't a lot of Android devices with a full-qwerty physical keyboard, and this might be a good option for you if you love your typing on a physical keyboard rather than tapping on the touchscreen.
The specs of the handset include a 1.2GHz NVIDIA Tegra 2 dual-core processor, 4 inch Nova LCD Display (700nit) with 800 x 480 pixel WVGA resolution, 8GB ROM, 1GB RAM, 5MP rear camera and VGA front camera, HDMI support, Bluetooth 3.0, and will be running Android 2.3.4 Gingerbread. The handset has been making news in Korea, so we should see the handset in the coming months.