Low budget Samsung Galaxy mini 2 leaks, might launch around MWC
The Galaxy Mini has finally received an upgrade, though it isn't a something big. Leaked in a promo, the Samsung Galaxy mini 2 S6500, codenamed Jena, is said to be a low-end device and should fall between the Galaxy Y and Galaxy Ace.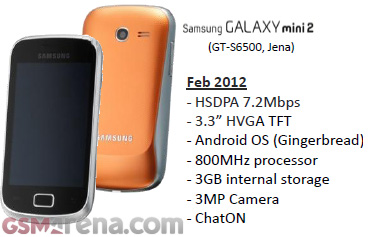 The specs of the device include a 3.3 inch screen (HVGA) resolution, an 800MHz processor, 3GB of built-in storage, Android 2.3 Gingerbread, a 3MP camera and 7.2Mbps HSDPA connectivity from the original.

According to the source, the promo says that the device has a February 2012 tag, which means that we might see the device somewhere around the MWC.