Optimus Vu pictured next to its competitor Galaxy Note
So just 2 days after we saw LG's 5 incher, the Optimus Vu which is a direct competitor to Samsung's 5 inch phablet Galaxy Note, we see both the device pose next to each other. Yeah it is indeed very interesting to see two 5 inch phones to be pictured together who are direct competitors.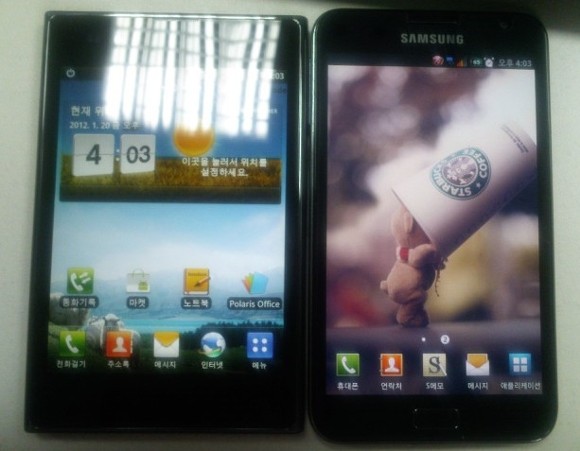 The Optimus Vu has a 5 inch IPS-LCD screen whereas the Galaxy Note is 5.3 inch tall. But as the Vu has a display resolution of 1024 x 768 thus going in for 4:3 aspect ratios, the Vu is broader than the Note. The Note is 83mm broad where as the Vu is some 90mm broad so for using the Vu, you indeed need really big hands to operate it with a single hand.
When we saw the Galaxy Note for the first time, we had thought that it'll rule the interesting 5 inch smartphone segment alone for years all together, but we don't know what's special back there in Korea that a direct competitor to the Note is out so soon. It'll be interesting to see how well the Vu does when it is finally available in the market and will it get the same response as that of the Note.
For now we have to wait until the MWC, where we expect 5 inch smartphone to be unveiled.

Catch more of the Optimus Vu here.