Martian Notifier smartwatch announced for Rs. 9999
While major smartphone vendors have gotten into the smartwatch race, well known fashion watch maker Martian Watches has just introduced its smartwatch.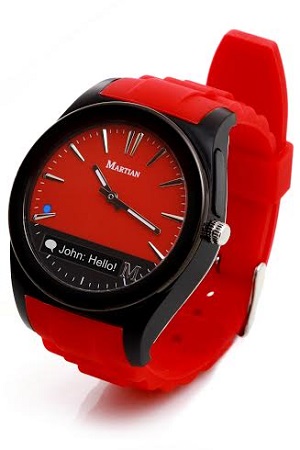 Martian Watches has announced the launch of the Martian Notifier smartwatch. The watch is compatible with all Android as well as iPhone devices. The watch has a Graphic OLED Display but only within the small display enclose in the analog smartwatch. The watch can be connected to any smartphone using the Martian Notifier App.
The Martian Notifier smartwatch offers real-time alerts and notifications, which include caller ID, texts, Facebook, Twitter, Weather and email. The watch is priced at Rs. 9999 and would be available exclusively through Flipkart starting from October.
Speaking about the Martian Notifier smartwatch, Jeffrey Hsieh, CEO, Martian Watches, said, "Bringing the Martian Notifier to a worldwide market, especially a major growth market for consumer electronics such as India, provides a unique opportunity to set standards in the Indian wearable tech market with our world class quality and great value. Consumers in India are looking for wearable technology that melds well into their daily lives with a personalized digital experience, and we feel a smartwatch design with style like ours is just the thing they are looking for and Flipkart is the ideal partner to help make this available to them."