When you travel the World, there are several things you may require from hotel bookings to shopping and attractions. If you are looking for offers and discounts on various platforms and services, this app called Matrix Travel Companion from Matrix Cellular can do it for you with ease. Matrix Cellular came up with an idea of giving access to best deals and offer convenience to the travelers in one single mobile app without having to look into multiple apps.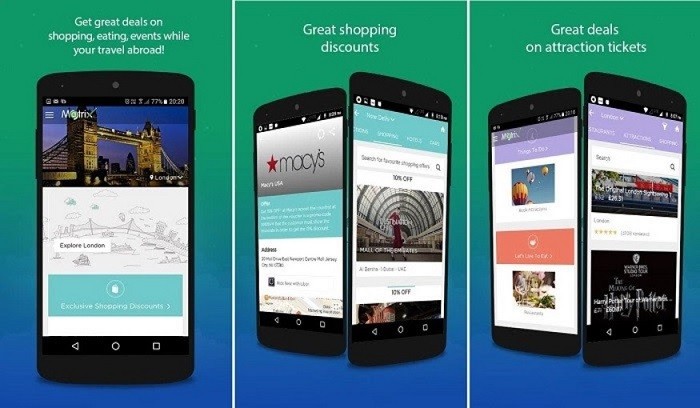 The best thing about the Matrix Travel Companion is that it gives you great deals on shopping, food, hotels, cab transfers, tours, and attractions while you travel the world. It even gives you VAT refunds, recharge prepaid SIM cards, buy travel insurance and Forex cards.
While traveling abroad, it becomes important to know about the destination and what it must offer which makes this app an excellent choice for those who want to explore the place. The app's interface is very simple and intuitive and brings all relevant information for users at one place.
Features of Matrix Travel Companion
Matrix Travel Companion offers on over 500,000 Hotels and Apartments. With options to book now pay at the property and discounts of upto 50%.
Offers on 150,000 attraction tickets which include various theme parks, Hop On – Hop Off tours, skip the line tickets, etc.
Discounts vouchers for 850 best Malls and outlets globally
Deals on Prepaid SIM cards for International Travels. Recharges available for over 130 countries.
Shopping VAT Reclaims in UK, Spain, France, Italy, and Germany
Book Cab/Taxi Rides
Buy Travel insurance to stay secure during travel
Book Forex Cards for money exchange and foreign currency
Shopping
The app offers discounts of up to 30% on more than 850 lifestyle stores including MACY'S, Bicester Village in London, Mall of the Emirates – Dubai, Luxury Shoppes in Las Vegas, Harbour city mall in Hong Kong, Starhill Gallery in Malaysia, Gloria Outlets in Taiwan and many more.
Hotels and Restaurants
Matrix Travel Companion has over 500,000 partners for hotel booking with options to book now pay at the property. Reserve restaurants with great deals in places like Bangkok, Singapore, etc. Enjoy discounts from 10% to 50% for hotel bookings.
Attractions
Enjoy sightseeing at great prices across the globe with over 150,000 partners for ticket booking for attractions including Disneyland, Madame Tussauds, Eiffel Tower Grand Canyon, London Zoo, and many more. It also comes with skip the line tickets, bespoke helicopter and seaplane tours, guided tours to the Vatican Museum, Sistine Chapel, art galleries, and much more. Tickets can be booked in advance and are emailed, with reference numbers stored on the App for easy access.
VAT Refund
Matrix Travel Companion is the first of it's kind App to offer Shopping VAT. You can claim VAT refund in countries like UK, Germany, Spain, France, and Italy and save up to 19% when you shop. The refund can be claimed within one week of the purchase.
The Matrix Travel Companion is available on Android and iPhone/iOS platforms.