Two new apps have been made available by Microsoft in India for Android and iOS. Kaizala and Kaizala Pro are basically chat apps for enterprises and work management. Needless to say, the Pro version is paid while the standard version is free. In many ways, the app is similar to WhatsApp like requiring a mobile number for ID verification. It's based on cloud computing service Azure by Microsoft.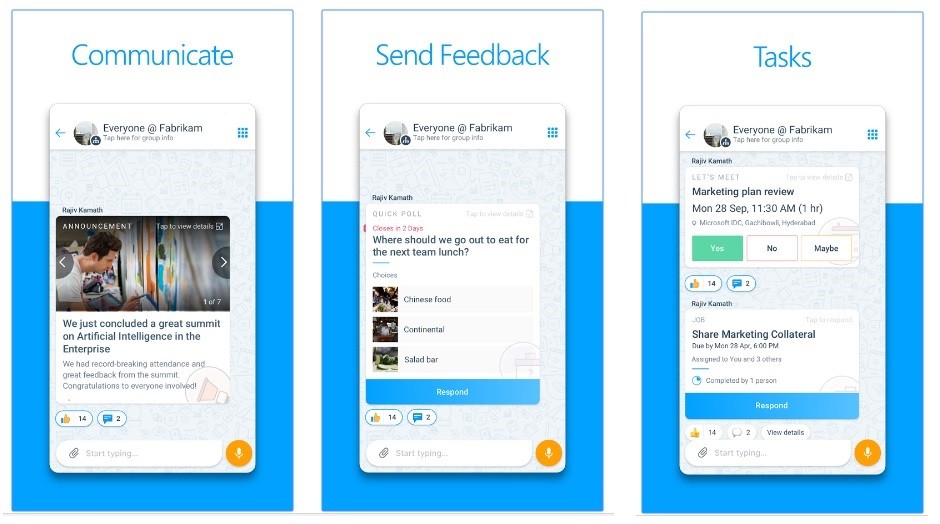 The Kaizala app brings many integral features helpful for the workplace. The app introduces Kaizala Actions. This feature comes ready for sharing announcements, assigning jobs to people as well as tracking their completion. Moreover, with functions like Let's Meet, meetings can be set and confirmed. Kaizala can also request the live location of people or employees.
Microsoft has baked a quick survey feature into the app itself where group owners can ask questions and opinions. Other features include keeping track of expenses and bills. Moreover, users can make create priority lists or work lists and organize their days work in an easy way.
There is a Pro version as well that costs Rs. 130 per month. It allows group forming and management. Group owners have the ability to publish custom actions, create public groups and much more. Power features like advanced reporting and analytics are included for the premium user.
Microsoft says Kaizala is the go-to app for many large firms like YES Bank, Apollo Telemedicine, Republic TV. While the Andhra Pradesh government is one of the first political bodies to use the app on a large scale officialy.
Download Link: Microsoft Kaizala for Android l Microsoft Kaizala for iOS