The Microsoft Nokia takeover is the biggest news from the smartphone industry up till now and it has taken us up by surprise. But now that we have to settle down with the reality and take a closer look at what is changing for both the companies and more importantly, what is not going to change for the company.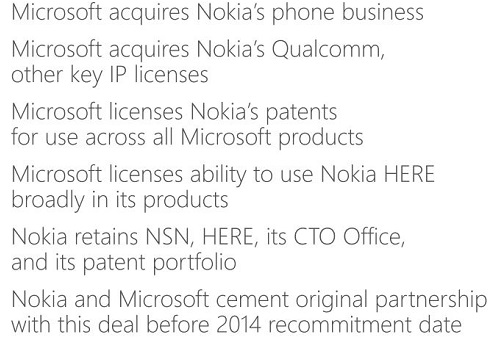 First off, are we going too see any Microsoft Nokia devices in the future? This is the biggest and more important question ever. We have seen this happening it the past with Motorola, which from having a range of devices, now hardly launches any. Obviously a company whose primary concern is an OS, doesn't want its partners to be threatened by it hardware concerns, which more or less shutting down Nokia's best asset – its hardware manufacturing.
As of now Microsoft has declared three zones where Nokia will be sustaining itself – patents, maps and software services. With no mention of hardware, even though we had awesome phones such as Nokia Lumia 1020 and some more phones and tablets on the horizon, all that is kind of gone to crap if Microsoft doesn't build on it. On the other, even though this means speaking without certainty, they are assuring that Nokia's employee base of 18,300 personnel will only gain from this takeover which we hope is an indication that the hardware business will still be sustained. 'Partners' would have mattered if Microsoft really had any to call its own – whether it be HTC, Samsung or even ZTE, none of them has a great Windows Phone range and hence they would not be affected too  much if Microsoft did alas continue Nokia's hardware endeavor. Overall, this one has a big question mark over it, and leans mostly towards the negative as of now.
On the other hand, there is also one more question – what does Microsoft stand to gain? Besides Nokia's awesome software, apps and patents, Microsoft stands to have the core team at Nokia which has been behind its success for so long handle the mobility portfolio.
If Microsoft takes over Nokia and runs it as it has been running, it would be amazing but we know from the Motorola takeover that all these are just promises. Nokia could lend over some of its great stuff for even Microsoft's core PC business, enriching it.
And here's the most important question – how does the future hold for Nokia? Well, as a company, it has been sold out for cheap, but if shareholders agree to the takeover – it is quite as well, a done deal. As for the company's employees and other staff, the takeover will most probably be having better prospects – as of now. But, as for the end of the line consumer and Nokia enthusiasts, it is a huge cause of worry and will forever be.
Here's a link to Microsoft's official strategy outline on the subject.