Trying to download a Google Chrome browser on Windows? Microsoft will pay you if you switch to its Edge browser from Chrome on Windows computers. Microsoft has launched a new advertising campaign on the Windows platform to promote the Edge browser. Microsoft wants you to use the Edge Browser on Windows and you can get free Gift Cards once you do.
Microsoft does this by running 7 days challenge where users can get gift cards when they browse the web with the Edge bar for 3 days. Look for an ad that pops up in your Edge Bar and click on it to get the Gift Cards. The description of the advertisement reads, "Search with the Edge bar for three days to earn extra 3,100 points. Offer valid for one person/account within seven days of joining the challenge".
Recently, a banner is seen on the Microsoft Edge browser on the Chrome download page that promotes Edge as a trustworthy alternative to Google Chrome. The banner read "Microsoft Edge runs on the same technology as Chrome, with the added trust of Microsoft." It further adds, "By continuing, you will set Microsoft Edge as your default browser. Offer valid for 1 person/account within first 14 days of joining."
It seems the company is trying to get more people to use their web browsers and apps. Microsoft is working hard to make it even more popular forcing its way into becoming among the most popular.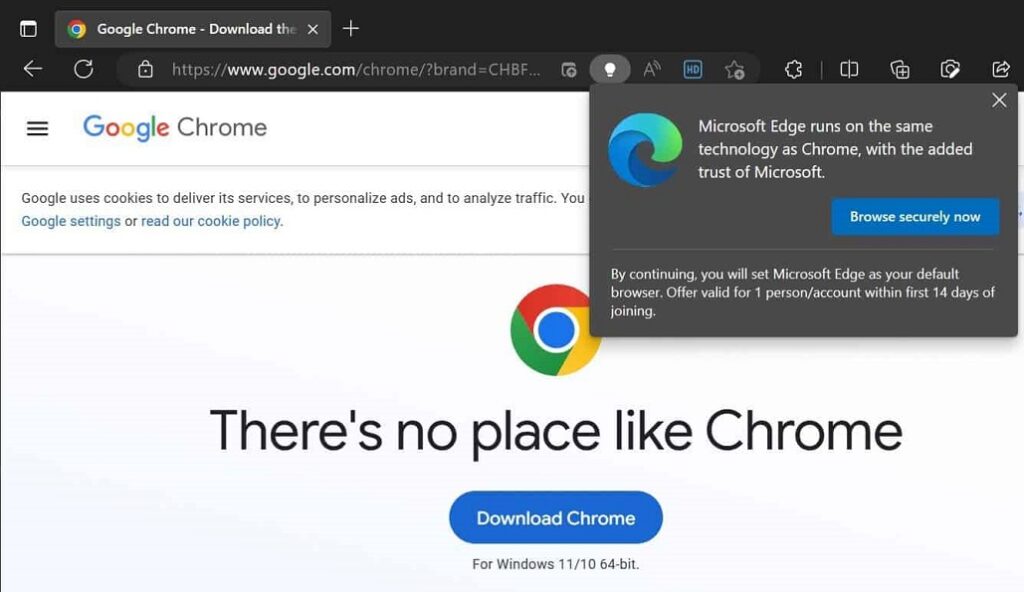 Microsoft is currently testing out a new ad to display to users who are using Windows 10 or Windows 11 and have the Edge Browser. People who already use Windows have seen ads for Edge before. This new ad will be shown to people who try to switch to another browser. It seems Microsoft wants to encourage users to stay with the Edge browser, so it will show the users more recommendations.
According to Microsoft, the Edge browser has a lot to offer, and once a user starts using it, it's difficult to switch back to their old browser. As both the browsers – Chrome and Edge are based on the Chromium project, they might share similar features.