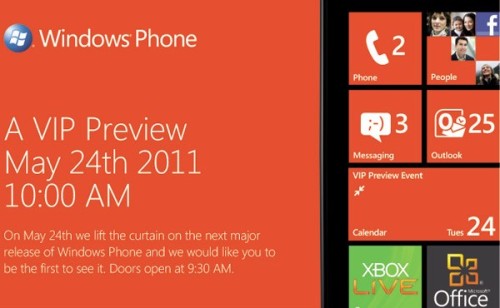 On 24th May 2011, Microsoft will be announcing their next major release of Windows Phone. We believe that the highly rumoured and anticipated 'Mango' update for Windows Phone 7 will be finally unveiled.
After many announcements by Microsoft and numerous leaks, we might just see what they have been cooking. Earlier announcements about the platform included the addition of multitasking, camera and other sensor access, deeper integration of the OS, etc. A latest release by the 'Windows Phone Dev Podcast' proves that there might be more features like Bing Audio, which will act like Shazam for recognizing music, Bing Vision which will use your smart phone's camera to read barcodes and do optical character recognition, plus potentially provide support for augmented reality apps. There's also a speculation of turn-by-turn voice directions for Bing Maps and a native podcast player, also voice guided texting through which you can type in a text by just speaking in your smart phone.
Well, we shall wait and see on the 24th of May as to what Microsoft has accomplished.