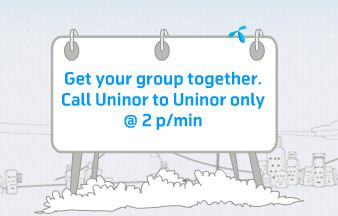 Uninor today announced that it will be offering its subscribers in Mumbai very heavy discounts on local on-net calls. The discounts will range from 85% to 96% depending upon the location and the time. The best part about this plan is that Uninor subscribers will not have to pay anything extra for special recharge to get benefit of these discount rates, as its available as default to existing as well as new subscribers of the Dynamic Pricing plan.
If you are not on Dynamic Pricing Plan of Uninor then to avail the benefit of this discount you need to get a special recharge of Rs. 26 which comes with a validity of 3 months. Uninor's Dynamic Pricing Plan offers discount upto 5% to 60% on local calls to other networks.
This plan will save some money, though not much, for those who are currently using i-gain 37 special recharge of Uninor which offers 2000 local U2U minutes. Assuming if you use only 1000 minutes then you should not recharge with i-gain 37 as Uninor will by default is offering heavy discount so in that case you will have to pay only Rs. 20 (approx assuming 2p/min).