With the Modi-wave turning into a Modi Tsu'NaMo in the election results as well as on Twitter, to keep the 'ache din' going on, the Modi Tsunamo game was launched on Android.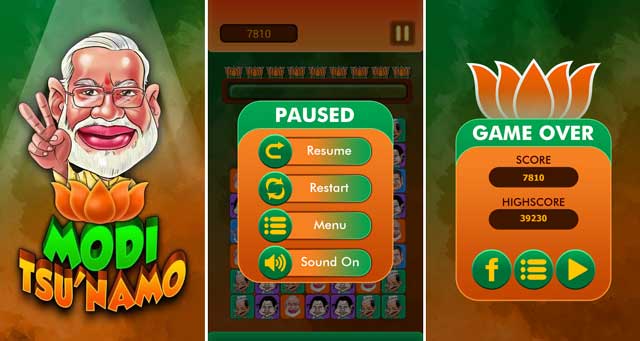 Milestone Interactive Private Limited has announced the launch of the Modi Tsunamo game for Android. The game is a simple yet quickly addicting arcade game where the player has to match at least 3 or more faces of in a single swipe to earn points. The faces include the most popular Indian election candidates including Narendra Modi, Rahul Gandhi, Arvind Kejriwal and Mamta Banerjee.
Being in favour of the recent victory of Modi, combinations containing Modi will fetch more points than those containing any other leader. Also more number of faces in a single swipe result is higher points. The game can be downloaded for free from the Google Play store.
Speaking about the launch of Modi Tsunamo, Jayont R. Sharma, Chairman & CEO, Milestone Interactive Group, said, "The win for BJP and Narendra Modi in the recent Loksabha elections, has encouraged us to launch the Modi Tsu'namo' mobile game. The game is part of our celebration of this momentous occasion. We are certain that with all the support Shri Narendra Modi has garnered, the players will have a good time playing this mobile game."