It is no secret that the Gujarat Chief Minister and BJP's prime ministerial candidate, Mr. Narendra Modi is amazingly popular in India. He definitely has a huge fan following in India and some people do nothing less than worship him.
Well, it seems some of those people like Android too. Not only there is a special NaMo Android smartphone coming out in time for the elections, there are a deluge of apps dedicated to Narendra Modi in the Google Play Store indicating that after the nomination as the PM candidate, his popularity is on the rise.
We bring you a selection of apps dedicated to Narendra Modi.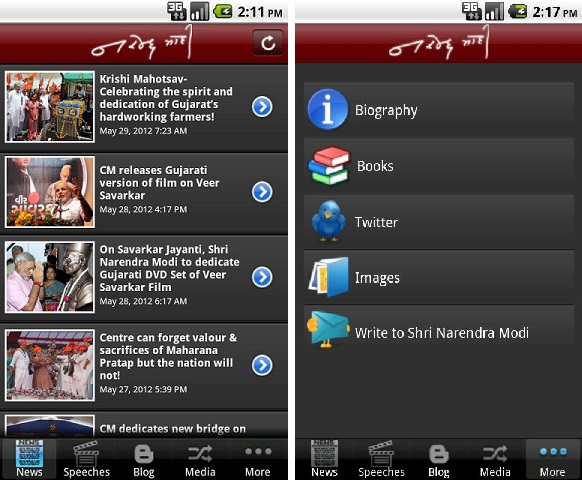 Informative: Narendra Modi Official app: This is the official app from Narendramodi.in. If you are a fan, it has loads on offer. The app offers an insight into Modi's background providing a full biography along with images of the man. It also gives you further links to books on the subject and links to his Twitter feed. Along with that, there is a section of 'Write to Shri Narendra Modi'. It also provides regular news updates on Narendra Modi. It has been rated 4.9 in the Google Play Store and received favorable reviews.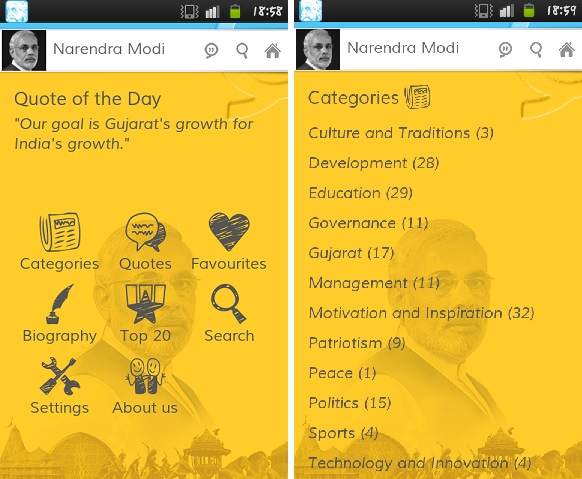 Quotes: Narendra Modi quotes: Narendra Modi is an excellent orator and quite well known for his quips on different stuff. If you are fond of his wit, then this app might help. It contains his takes on different subjects and you can actually see his quotes by categories. It also list the favorite quotes of the man, along with his biography, the 10 top witticisms and a search tab for the same. It is too rated 4.9 in the Google Play Store and received favorable reviews.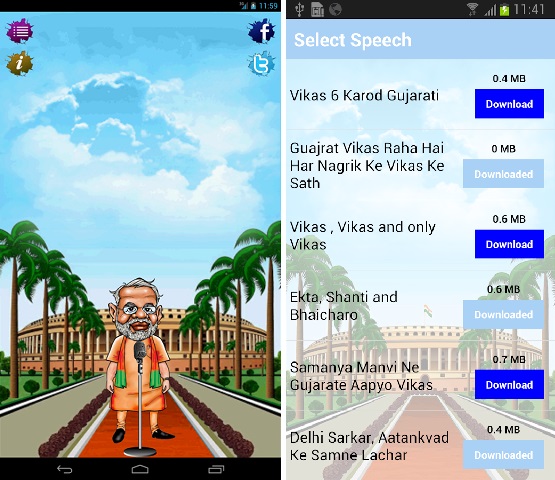 Speeches: NaMo's Pocket Book: If you are fond of Narendra Modi's speeches, you have to have Namo's Pocket book, which comes with a cute caricature of Narendra Modi in front of Rashtrapati Bhawan. You can download his acclaimed speeches such as '6 crore Gujratis' and 'Vikas, Vikas and only Vikas.' It is rated 5.0 in the Google Play Store and has received awesome reviews.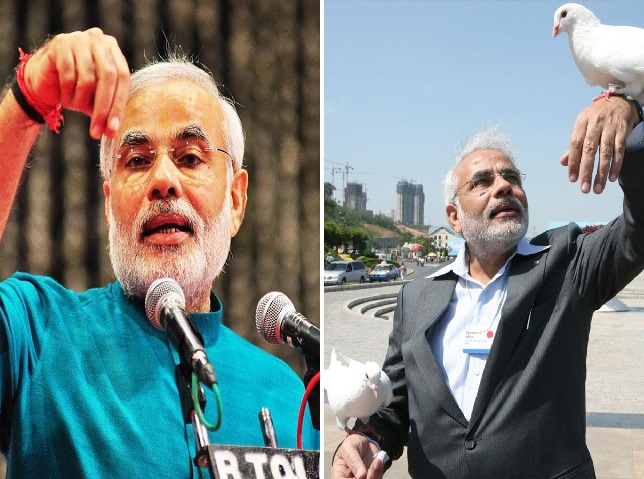 Wallpapers: Modi The Lion HD LWP:  The biggest endorsement of Modi is his presence on your phone. His face on your phone via Live Wallpapers is one thing you can do to show how big a fan of Modi you really are.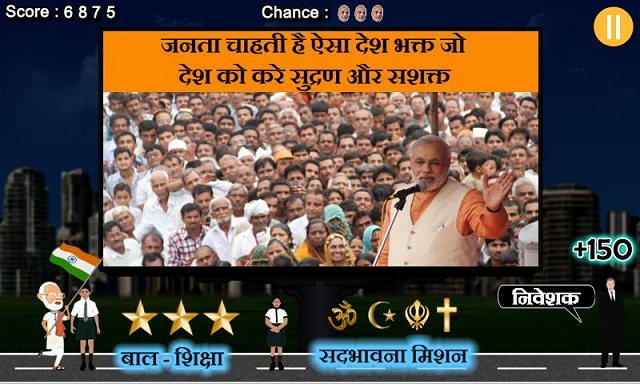 Game: Narendra Modi: Game: The game is inspired by Narendra Modi's various yojnas. The game follows Modi's achievements in every field. You win by defeating deterrents like corruption and choosing the right policies.