With the increasing demand for camera enabled phones, Nokia has announced a new feature phone with a camera at a very low price point.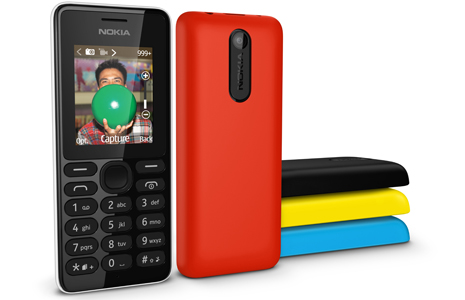 The Nokia 108, which is available in single SIM and dual SIM variants, has the usual Nokia feature phone bar design with a display measuring 1.8 inches. The device has a small VGA camera to capture the precious memories. The camera is capable of taking pictures as well as shooting videos.
The Nokia 108 has a huge battery life with single version offering a standby time of 31 days and the dual SIM version 25 days, besides a talk time of 13.8 hours. The device also has Bluetooth v3.0. The phone which is targeted towards the people wanting to buy their first camera phone is priced at just $29 and would be available in the last quarter.
Speaking about the affordable camera phone, Timo Toikkanen, executive vice president, Mobile Phones, Nokia, said, "We continue to connect millions of people, including those for whom mobile phone ownership was previously out of reach. There remains a huge segment of the global population that has yet to own a camera phone. For the next billion people and beyond, we aim to bring new mobile experiences to ever-lower price points, and the Nokia 108 and Nokia 108 Dual SIM are great examples of this commitment."