We recently came to know that Indian retailer, Flipkart will launch the Moto X in India soon and now, the flagship Motorola smartphone has been listed on the retailer's website along with the EMI and other offers for the device.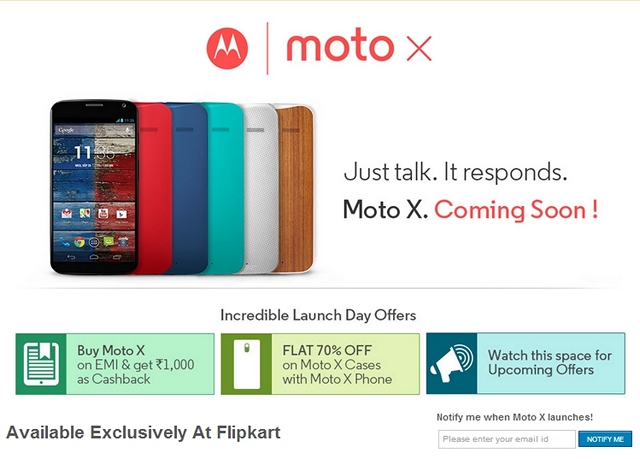 Moto X is listed on Flipkart with the 'coming soon' tag but rumors suggest a March 19 launch. The device will be offered at an EMI scheme, which offers Rs. 1000 cashback. Flipkart is also offering a flat discount of 70% on Moto X cases bought with the device. You can also give your email id to Flipkart, so that you can be notified when the device is available. According to the listing, there will be more offers with the Moto X, which the online retailer will reveal in time.
The Moto G has been a huge hit at Flipkart and the demand has surely surpassed the expectations. It also resulted in Flipkart cancelling some orders and late delivery of shipments. Flipkart does not want to repeat the same mistake and thus, it has limited the device to one unit per user. As the retailer lists and we quote, "Due to limited stock, orders currently limited to only one phone per customer".
The Moto X has been praised all around the world and its Touchless Controls and beautiful design surely make the smartphone interesting. We are glad the device is finally here but it'll be interesting to see if the device gains some traction. It will obviously not get the grand reception Moto G received in India since the competition is different and more spec powerful.
We quite like the device but the only thing that will decide its fate is the price, which we should know in a couple of days. It is also important to note that the Moto X is also due for a refresh so we could see the Moto X successor soon. The Moto X will be available in Black, white, royal blue, cherry, turquoise, walnut finish (wood back), teak finish (wood back). So, anyone out here planning to buy a Moto X?
To buy Moto X visit here