Motorola has announced Special Diwali Offer on selected Motorola smartphones. The company tweeted about the limited discounts for its four smartphones – Moto Z2 Play, Moto M, Moto G5, and Moto E4. Teasing the discounts with a hashtag #HelloDiwali! saying "Avail limited period festive offers on a range of Motorola smartphones at a store near you!", the company has unveiled Diwali festive offers.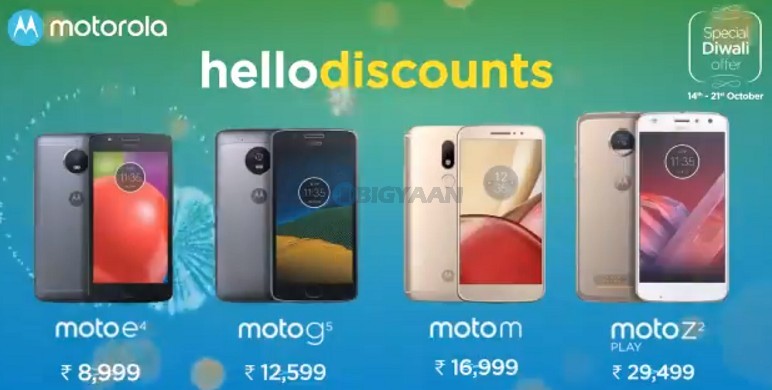 Speaking about the discounts Motorola has offered, the Moto Z2 Play has a price cut of ₹5,000, previously priced at ₹29,999, is now available for ₹24,999. Moto M has a price cut of ₹4,000, old price ₹16,999, price after discount ₹12,999. Moto G5 got ₹1,600 off which takes down the price from ₹12,599 to 10,999. The price of Moto E4 drops to ₹8,199 from ₹8,999, a discount of ₹800.
Motorola Special Diwali Offer
Moto Z2 Play – ₹24,999
Moto M – ₹12,999
Moto G5 – ₹10,999
Moto E4 – ₹8,199
To get the discount, visit the link which redirects to the Motorola website that lets you locate the stores near you. However, you can also buy selected Motorola smartphones from the online partners Amazon India and Flipkart.