Motorola's 7 inch tablet? [Leaked]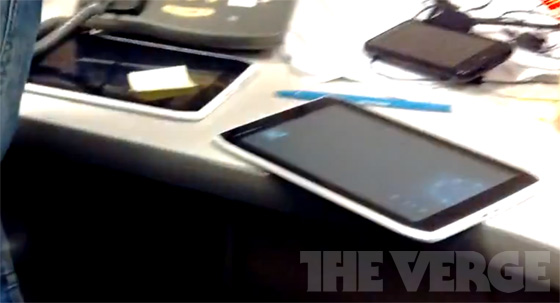 There have been rumours that Motorola may be coming up with a 7 inch tablet. And now we have a blurry image, of probably the 7 or 8 inch tab, which looks to be much thinner and sleeker than the 10 inch Motorola Xoom. The size can guessed very well as there seems to be a 4.5 or 5 inch mobile phone behind the tab, which could be well be the Droid HD.
As you can see, this tab is having nice angled edges, instead of the conventional curves that we see in tablets. If we observe closely, it seems that the tab is running Android Honeycomb's camera app, so that confirms its OS as Android. The Motorola Logo is said to appear on the upper left in portrait orientation and it seems to have a micro-Usb and micro-HDMI ports on the other end.
Motorola's CEO Sanjay Jha had a few days ago confirmed that we could see a 7 inch tablet soon that the company is working upon, by the end of the year.
So is this the one?