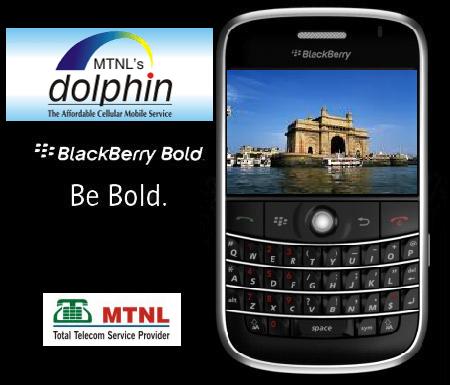 MTNL Mumbai today launched BlackBerry services under its post-paid arm Dolphin Mobile service. MTNL's BlackBerry comes with a price range of Rs.14000 upto Rs34000, three BlackBerry handsets has been introduced which include Blackberry Bold, Blackberry Curve 8310 and Blackberry 8700.
MTNL Mumbai has launched various tariff plans starting from Rs.249 for individual and corporate customers with lowest entry cost. During launch MTNL officials claimed that the launch would strategically expand Mtnl's complete extent of services, MTNL has been consistently focused on offering the latest technology and services to its customers. Our strategic collaboration with RIM to offer BlackBerry services to our customers takes us a step forward in this endeavor. He also cited 3G service roll out in Mumbai can be expected in a month.
In an Exclusive talk MTNL Mumbai's Mobile Services Head- Principal General Manager (WS) Peeyush Agrawal said that MTNL BlackBerry services are introduced under the postpaid Dolphin Mobile service with 2G platforms in Mumbai, MTNL has launched various tariff plans for individual and corporate customers with Lowest entry cost. Blackberry service would carry fixed monthly charges ranging between just Rs.249 to Rs.1099.
MTNL Blackberry Internet service (BIS) Economy plan comes at Rs.249 per month,and Rs.899 for BlackBerry Enterprise services (BES) plan with Unlimited data usage facility, For individual customer it would cost Rs.1099 (BIS)with Unlimited data usage.