MTNL rationalizes 3G Data plans in Delhi; No Unlimited Plan now

MTNL Delhi has rationalized its 3G data plans for its users from the 11th of October 2011. Now MTNL will be offering more Data on all the existing prepaid and postpaid plans. MTNL however, has withdrawn its most popular 4500 plan which used to come with a 6 month validity and unlimited data usage, due to misuse by consumers. The 4500 plan is withdrawn with immediate effect and no consumers will be added in Delhi circle. Also the existing consumers will not have to worry as they'll be able to enjoy it till their plan ends. The plans start from Rs. 50 and go up to Rs. 1199. Below is the list of plans with their revised Data usage with validity.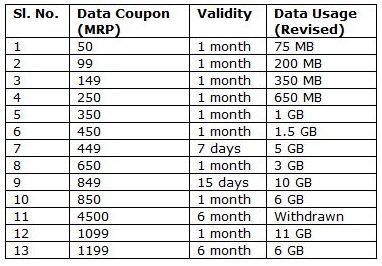 Plan Rs. 449 and Rs. 849 are only available on prepaid. After the free usage Data rate of 1 paisa per 12 KB across all plans will be applicable.