While we are expecting to see a host of devices launched on October 22 at the Nokia launch event, and now another mysterious Nokia device has been spotted.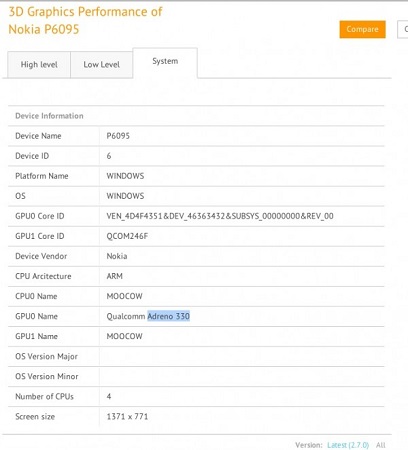 According to a benchmark result spotted on GFXBench, an unknown Nokia device has surfaced. The device is apparently powered by the superfast Snapdragon 800 processor and an Adreno 330 graphics. The device interestingly would feature a 1371 x 771 pixels resolution which is nearing to the standard 1368 x 768 pixel resolution seen in the Microsoft surface tablets.
To make things more interesting, the tablet would be running on the Windows platform instead of the Windows Phone platform. While the exact details of the device are not yet available, rumors have linked this device with the Nokia RX-114. At this moment it is not yet confirmed if we would get to see this particular device at the upcoming Nokia launch event.