We are all eagerly waiting to have 'Breakfast with Sundar Pichai' because we expect the refreshed version of the Nexus 7, besides Android v4.3, to be launched there. While earlier we saw leaks that mentioned the hardware of the device, now we have with us the features.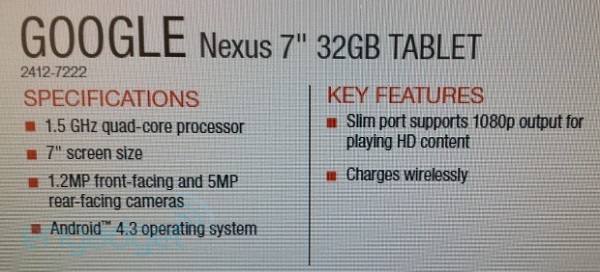 According to reports, the previously mentioned specs like the 7 inch display with two cameras – 1.2 MP front and 5 MP rear have been confirmed. While some claim that we would find the device running on the Android v4.2.2, this report claims that it would be the Android v4.3 that would mostly be launched on the same day.  Similarly, the make of the processor is not mentioned but is said to be a 1.5 GHz quad core processor.
While all these was previously mentioned, some new details have cropped up. First, the new Nexus 7 will feature "slim port" support for full 1080p video output. There would also be support for wireless charging built for the device. Unconfirmed sources put the official release date as July 31.