One of  the devices that we have been eagerly awaiting this fall is definitely the Nexus 5 smartphone. It seems that the release of the phone is set for the fag end of this month. How we know that is a bit funny – even though nothing is confirmed about the launch, the cases have emerged before the actual device has shown up. The cases have a shipping date of October 31st.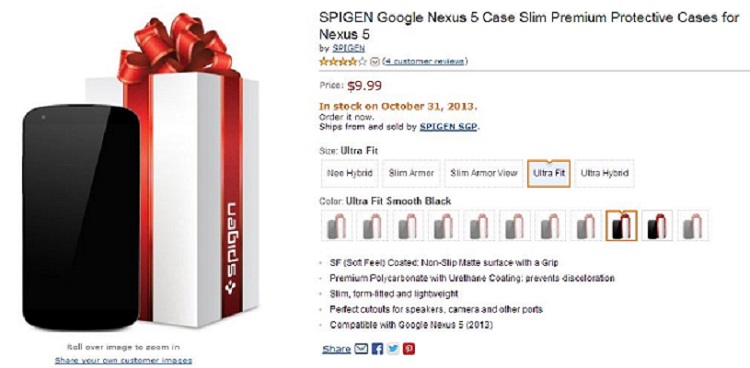 The cases look pretty slim and it seems that Nexus 5 might have a more stylish form factor than its predecessor other than the obvious – Android 4.4 – Kitkat OS.
But the weird part is that there are many fake reviews doing the rounds – people are actually stating that they used the device and used the case on the device – here's one for example.
"I like my Nexus 5, but it has its quarks. Specifically, the design lacks symmetry. Overall, it seemed kind of unstable and couldn't hold a charge. Honestly, I kept having a nagging suspicion that my Nexus 5 had no mass.
I tried many methods to fix this. Most often, I would collide my Nexus 5 at high speeds with another Nexus 5 and study the results while sitting on my large Henredon couch. In the end, I felt like I was left standing alone in an empty field.
That is, until I discovered the SPIGEN Google Nexus 5 Case Slim Premium Protective Cases for Nexus 5! Discovering this case was both monumental and nobel. It has validated my mobile phone model and is a quantum leap over other cases. Now my Nexus 5 is both tangible and matters.
I just hope the price of this case remains stable and doesn't succumb to the inflation that seems to permeate throughout the mobile phone case universe.
I thank god in particle for this."
Whether it be true or not, an imminent release for the Nexus 5 is on the charts.