Nexus 5 and Nexus 7 (2013) may be launched in India on November 12
We had pointed out that the Nexus 5 smartphone was listed on the India Google Play soon after the launch as coming soon. Sources in the know, now claim that the smartphone may be available for purchase as soon as next week.
According to reports, Google, which has earlier for unknown reasons ignored the Indian region when it comes to their Nexus devices, seems to be suddenly taking keen interest in the region. As such, the recently launched Nexus 5, which is already listed on the Play store as coming soon for Rs. 28999 for the 16 GB version and Rs. 32999 for the 32 GB version, may be available for purchase from November 12.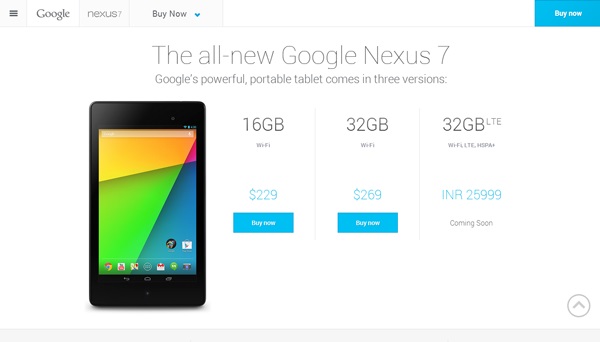 Interestingly, the Nexus 5 won't be the only device that is expected to reach India. Reports also claim that the refreshed version of the Nexus 7 tablet would also be launched in India on the same day. As if to confirm the reports, Google has put up the pricing of the 32 GB LTE variant of the device as Rs. 25999. However, the pricing of the 16 GB and 32 GB Wi-Fi only models is not yet known.