No Flash for Ice Cream Sandwich, at least for now
As we all know that Adobe has declared that it is stopping the development and support for the Flash player, and now news coming in states that there will is no flash support in Android's latest Ice Cream Sandwich OS.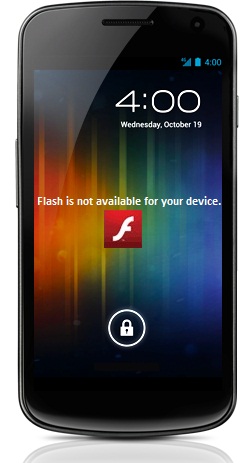 Google has also confirmed this with a statement:
"Flash hasn't been released for ICS yet so as far as we know, Adobe will support Flash for ICS."This proves that Google is hoping and believes that Adobe will eventually provide support to ICS at a later stage, if not now. To make the situation worse, Adobe Flash player is not available in the Android Market. Even worse, there is no way to load the older version of Flash right now. So all soon-to-be ICS owners, be ready for no-flash content.