The relaunched iconic Nokia 3310 is a darling of many a feature phone enthusiasts. But, Russian company Caviar has just taken things to the next level. By engraving two of the most infamous presidents in the world right now, Donald Trump & Vladimir Putin on the phone. Although Caviar is also selling iPhone versions with the same engravings. The phone has been launched to commemorate the coming together of Donald Trump & Vladimir Putin at the G-20 Summit.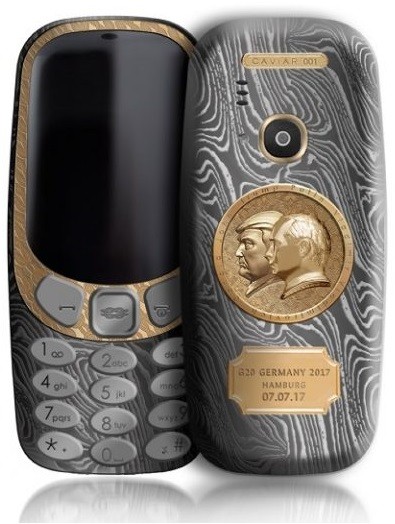 The 'Putin-Trump Summit' edition phone is the same inside. Most of the change is outside. The luxury feature phone consists of a titanium body laced with a "Damascus Steel" pattern. It wouldn't be a Trump-Putin phone if it didn't have the two world leaders on it. So at the back, Caviar has engraved 3D portraits of the two men plated in gold. Beneath the engravings, is the venue and date of the meetup.
According to the phone customizer, the phone has a lot of symbolism packed in it as well apparently. The titanium symbolises 'protection of justice', while the two engraved portraits convey the willingness of the two leaders to work together for progress.
The phone has an eye-watering price of 149,000 Russian Rubles ($2,471 approx, Rs. 1.6 lakhs approx.)