Nokia unveiled a bunch of new Ashas at the Nokia World event last month and now some of those devices are starting to go on sale in some parts of the world. The Nokia Asha 502 and Asha 503 have just gone on sale while there's no news on the Asha 500 which was launched with the aforementioned devices.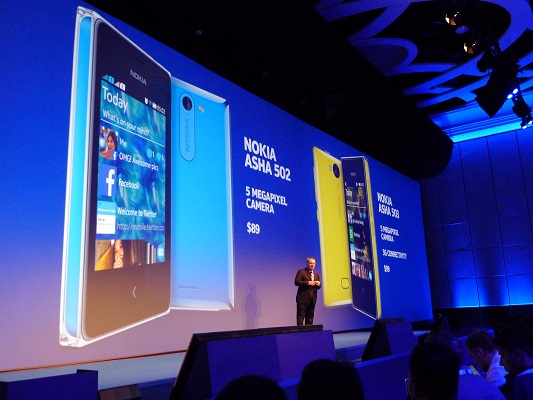 Both the Asha devices are pretty good addition to the Nokia Asha family. Both the devices feature a 3-inch QVGA (240 x 320) displays which come with Gorilla Glass 2 protection. The Asha 502 finally brings a good camera to the masses thanks to its 5 MP camera which comes with a LED flash. Sadly the Asha 502 features only 2G connectivity but thankfully there is WiFi connectivity. The Asha 503 brings 3G connectivity to the Asha family along with the 5 MP camera with LED flash.
There's also the new flashy design which the Asha 502 and 503 come with. The new transparent layer outside the body might look a bit too much but it looks great in person. Both the devices also come with upgraded version of the Asha OS which brought the much awaited WhatsApp to the Asha family.
The Nokia Asha 502 comes only in a Dual SIM version while the Asha 503 comes both in single and Dual SIM variants. The devices have gone on sale in IMEA and select markets in Asia Pacific and should come to the rest of the world soon enough.
In case you want to know more about the new Asha devices from Nokia, you can check out our hands on.