While Google has been trying hard to provide a navigation tool, Nokia trying to gain an upper hand has introduced a series of applications that offer more than just navigation for cars.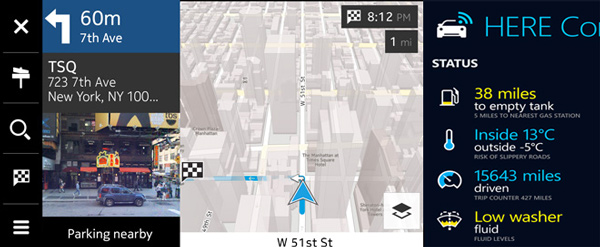 Nokia has launched the Here Auto, Here Auto Crowd and Here Auto Companion. The same app would be showcased at the International Motor Show in Frankfurt on September 10. The Nokia Here Auto provides an in-dashboard map along with voice-guided navigation without needing an active data connection. The service is currently available in 95 countries in 2D, 3D and satellite map views including street level imagery.
The Here Auto Crowd provides the user with real-time traffic updates thus keeping the driver out of heavily congested areas. The app also provides info on availability of parking spots, restaurants and cheap gas. The Here Auto Companion is used to sync the Here Auto to the driver's handset. The app can further be used to find the parked car using LiveSight augmented reality technology. Besides that, the app can check tire pressure and gas levels remotely and even switch on the AC in the car.