Nokia launches C2-01 and X2-01 mid range phones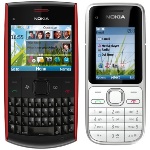 Nokia has unveiled 2 of its mid-ranged phones, the Nokia C2-01 and the Nokia X2-01. Both these phones runs on the classic series 40 operating system but both these phones are aimed at different kinds of people. The Nokia C2-01 targets the people who are looking for a feature rich phone but at a low cost and the Nokia X2-01 is directed towards the youth who love networking, messaging and Music. If you see the new naming system adopted bu Nokia for its device is different from before. For example if we take the C range devices it is aimed at people who want feature rich devices with low cost and the X range devices are aimed at the youth. The C2-01 will be costing more than the C2-00. The N is for the Ntertainment series, E is for the enterprise series, X is for the xpressmusic series and the C is for the consumer series
Nokia C2-01: As said by Nokia this is their most inexpensive new 3G phone. It has the classic keypad, a 3.2 megapixel camera with a 2 inch screen. It has the normal music player, Fm radio, Bluetooth, it also supports memory cards up to 16GB.We would also like to tell that it's NOT a dual Sim device. This device also has Nokia Messaging for e-mail and instant messaging. This device also supports threaded view for its SMS and chat messages. It will also have the Ovi Store for apps and the Ovi music services for the tunes. This device will be available from Q1 of 2011 and will be priced around Rs. 5000.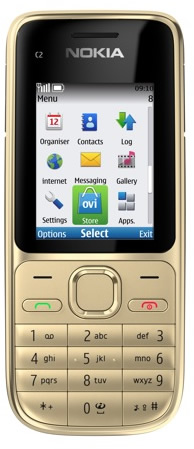 Nokia X2-01: The Nokia X2-01 is mainly a device for social networking and fast communications. It also features the new communities app which integrates Facebook into the device. This application makes it easier to read your friends updates and post your status updates directly from the home screen. You can also click on the home screen widget for more options.
This device also emphasizes on music. You can easily access music options which just one click, it has a media player, Fm radio and the Ovi Music service. It also sports a 2.4 inch QVGA screen and a VGA camera behind. It supports memory cards up to 8GB. It does not have WiFi and has only GPRS/EDGE data. The Nokia X2-01 will be available pretty soon in this quarter and will be priced around Rs. 5500 to 6000.